Wednesday, 17 July 2019 | Sarah
Do you know what hackle you need or what grade to tie your fly?
No? ... Not a problem, we didn't either when we started and we felt silly for asking, like everyone should know these things!
Help is at hand in our easy guide for you to understand hackles and the Metz grading system a bit better to make your tying easier and knowledge greater!
Tuesday, 16 July 2019 | Sarah
Heads - Skagit, Scandi, AFS, Traditional?
Weight - Line size #5-11 grams or grains?
Length - Short, Regular or Long?
So much to ask, how on Earth do you choose? For the Joy of Spey you need to understand lines before you can go fishing. Here we aim to help you to gain a wider knowledge of Spey lines and hopefully help to improve your fishing by doing so.
Monday, 15 July 2019 | Sarah
How do you know what Rio line is right for you?
Choosing a Rio fly line is important for your fishing success, our Rio friends can help you out with these simple tools for scuccess!
Monday, 8 July 2019 | Sarah
What does the technology inside the Rio lines mean to your fishing?
A guide to the Core and Coating Techonologies from Rio Products
Tuesday, 25 June 2019 | blogmanager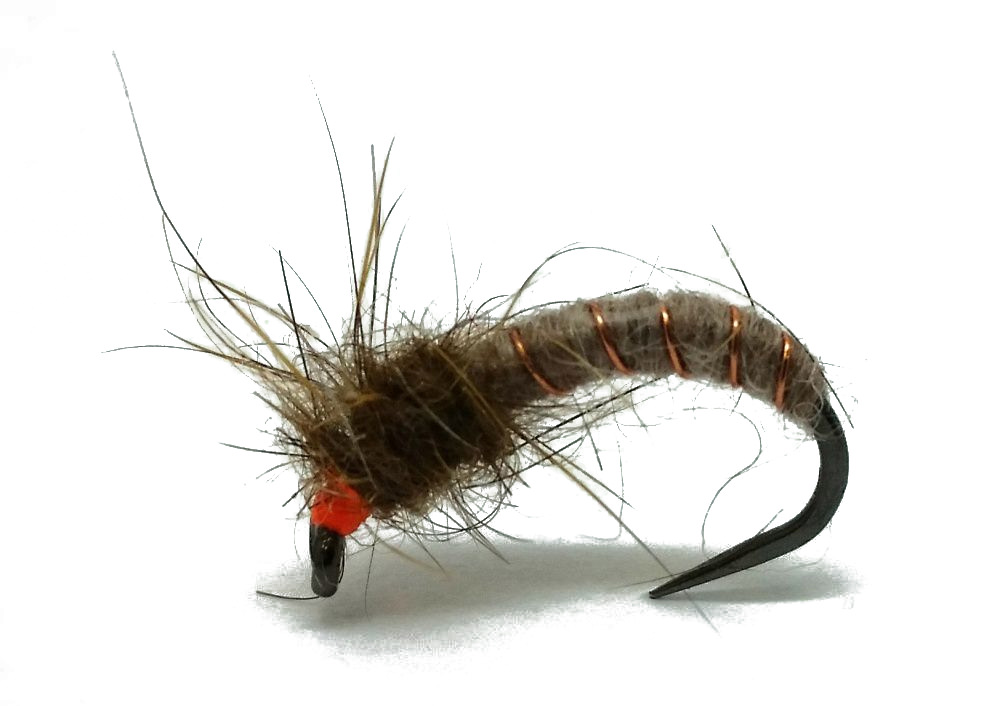 This Chaddy 477, a highly regarded and historic fly, is back in stock we are pleased to say. In true homage to Frank Sawyer, Pro Tyer Sandy Dickson has developed the Chaddy 477!
Tuesday, 25 June 2019 | blogmanager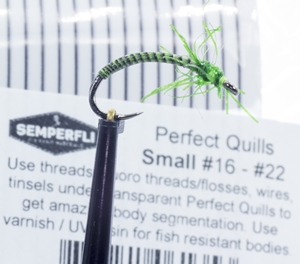 Amazing new synthetic quills released by Semperfli available now
Thursday, 12 October 2017 | Andy
Step By Step Fly Tying Guide is at the bottom of this article
We are big fans of this deadly lure range the Marsdens' Mohicans!. Tied on super strong Partridge K4AY Barbless Sproat Grub & Buzzer Hooks assures you of a reliable fly whatever you are fishing for.
Friday, 11 August 2017 | Andy
We had a great day fishing at Mulberry Whin on Monday testing the 8 foot 4 weight Vision Onki Rod with the new 2Tone Triangle Taper Wulff Fly line and using the Umpqua waist pack. What a super day catching natural brownies from this lovels chalk stream. Mulberry Whin is the most northerly chalk stream in the UK and in August cost £60 for a days fishing, very different to southern chalk streams.
Using a 4 weight Vision Onki rod paired with the Triangle Taper fly line were a delight. The colour and action of the Visikon Onki were superb and with just 10 feet of fly line our I was able to roll cast and naturally cast 30 feet of fly line 30 feet in very tight circumstances surrounded by trees. The Triangle Taper fly line was superb floating high in the water and it made casting a delight.
Thursday, 10 August 2017 | Andy
Bite identification is critical to fly fishermen, often we have watched and realised that people have not even noticed bites because of either poor eyesight of poor bite indicators being used. So here is a top tip for bite identification and it will cost you very little!
So you may have spent £20 or you may have spend £75 or more on a fly line, please don't worry this technique will improve your catch ratios and hook-ups. All you need is a dark coloured permanent marker pen (or light coloured pen if the fly line is dark coloured).
Wednesday, 9 August 2017 | Admin

Designed by Garry Sandstrom and part of the Lee and Joan Wulff Royal Wulff range of fly lines these were designed for fishing in areas with limited back casting space. Gary wantedd a fly line wher he could cast 10 to 20 feet of line then in a single roll cast turn over a large bead head fly with indicator and have them fly 30 feet. The lines are used as follows:
4 to 7 weight lines (195 to 265 grains) are designed for trout fly fishermen
7 to 10 weight (265 to 400 grains) are designed for switch, scandi and skagit on single handed rods (see notes below on Switch and Scandi usage)
11 to 14 weight (450 to 600 grains) are intended for double handed fly rods
find out more in this blog post
Monday, 10 July 2017 | Andy
Foam has been used for many years in fly tying. Fly tying foams come in many forms, as flat sheets which can be trimmed to size and used for bodies for example as bodies of grasshoppers or floating terrestrials and lures, it can be shaped as poppers used for many lures or as cylinders which can be used for bodies for exampleas a detached mayfly body or used for its buoyancy in a Foam Arsed Blob . Foam comes as open or closed cell in closed cell, in closed cell foam bubbes of air are trapped unline open cell foam which has broken adjoining cells. Open cell foam means water can flow into the foam giving it limited floating capability whereas in closed cell foam the bubbles as all closed trapping gas which is gives buoyancy. Normally for the fly tyer is that we usually use closed cell foams
1 Comment
Monday, 10 July 2017 |
Andy
As ever in this blog we will keep returning to the subject of fly fishing flies. It's a large, fascinating subject, and it's as well to learn as much as you can about their entomology, behaviour, habitat and habits as part of your fly fishing arsenal. Knowing as much as you can about the real insects also helps you select the perfect artificial flies for different angling expeditions under a wide range of conditions. Today we will look specifically at Caddis Flies
Monday, 3 July 2017 | Andy
What should a new fly tyer look for in a kit or should they purchase to start fly tying? There are ready made kits in the market produced by companies like Veniard ranging from tools kits to kits with tools and some feathers to ultimate fly tyers staters kits containing a vast variety of tools and materials.

So What does a person starting fly tying really need to purchase to start fly tying?
Saturday, 1 July 2017 | Admin
Fisker / Tubeology Plastic system is a tube syste with a difference. Plastic and metal tubes that can be cut to length to make any tube fly with interchangeable heads, clear, fluoro red, black or depth diving tungsten.
Created in Denmark the sytem is ideal for small summer salmon flies through to large predator and saltwater tube fly patterns.
Wednesday, 28 June 2017 | Admin
Tube fly fishing fishing origins are poorly understood, the first published references to tube flies is reputed to have been in 1932 by Alexander Wanless. He saw tube flies as a viable alternative to the loss of a large number of fly hooked salmon. He wrote that the tube fly was "the lure... has a hole through the centre of it so it slips up the line when a fish is being played. This is to prevent the small hook from being levered out of the fish's mouth by the body of the fly". Tube fly origins however according to Thomas Clegg in Modern Tube Making 1965 "came to Britain from America where North American Indians using hollow bird-bone lures which emitted a string of bubbles"
Find out more in this blog post
Tuesday, 27 June 2017 | Andy
So why have cassette fly reels become so popular over the last few years? To answer that question we have to look at the design of reels and think about the way in which we use fly reels. Traditionally reels were machined from solid steel or aluminium blocks or cast in iron. The seperate parts including drag, spool and reel would then be assembled. The spool having been cast or machined often cost half that of the traditional fly reel! If we look at the way fishermen use their reels it shows why manufacturers have moved to casette fly reels and shows their benefits.
Monday, 26 June 2017 | Admin
Thursday, 15 June 2017 | Admin
Haching caddis often scuttle across the surface of he water drying their wings trying to get airborne. It is this that is imitated with the jerk and pause retrieves. Imagine the speed of the sedge on the water, that is what you must imitate. Find out more about caddis in lifecycles in this bog article.
Friday, 9 June 2017 | Admin
As Hans said on his Facebook page "Now the peacock bird get on the red list of endangered species Straggle String suddenly becomes indispensable as synthetic substitute. It is an awesome material. Here replacing natural peacock herl for synthetic and the results are amazing."
Tuesday, 6 June 2017 | Andy
An essential guide.