What Fly Rod Should I Use for Salmon?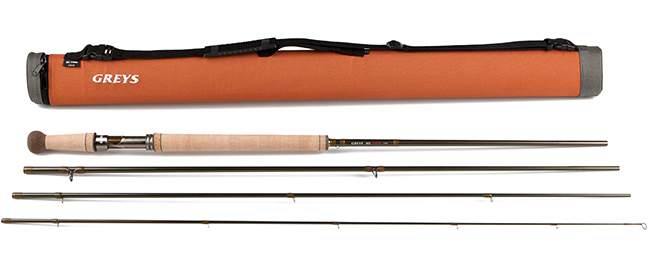 At The Essential Fly we regularly get asked for advice on what salmon fly rods should you take for that special salmon fishing trip, the answer of course varies depending on the river, water conditions and salmon flies used. For example if you are on a wide spate river casting large tube flies then you need a heavy fly line and you would be better so start with the basics the bigger the water the longer the fly rod! Fishing the mighty Tweed or Tay you may splash out on a 14 feet double handed salmon rod. However coming from Yorkshire we tend to be more thrifty or as my wife puts it ocassionally a tight arse! I took the Yorkshire approach to Salmon fly fishing and decided that I'd use 2 rods a 15 foot rod for larger and spate rivers and a 11 foot single handed rod for smaller rivers or low water levels, you could step down to a 10 foot rod but I like the control that a larger rod gives to tame a fish. My 14 foot will tame even the mightiest of runs whereas if I hook into a really large fish on my 10 foot rod then the fish and myself end up totally knackered, no use if you are sporting and only intend taking one fish which I personally prefer to do returning fish for someone else. We have to consider that the salmon must breed so the quicker the fight and quicker the release the better it is for the fish. It is know for some anglers to use lighter weight tackle for their fishing as they believe that they get more fight but this is severely damaging to fish and should be avoided at all costs. Use the correct tackle for the job, land the fish with the minimum fuss.
Summary
For large waters from Tay, Tweed to Devron or Dee use a large salmon rod for example the Double Handed Salmon Rods 14 feet which will take a 10 or 11 weight fly line and cast a heavy tube fly readily. Another big advantage is that with a large rod it is much easier to tame big fish
For smaller Highland rivers or low water rivers use a 10 to 12 foot rod such and I can also use this rod for trout on reservoirs and larger waters or of course you could go to a Switch rod!
Finally I do tend to over load the rod by one weight from the manufacturers recommendations so for a 7/8 I would always use 8 for 1 10/11 weight rod I'd use an 11 weight line and ocassionally have gone up one weight further when I need more from my spey casts.
There are a large number of salmon rods to chose from, check our our specialist salmon fly fishing rods department