Thursday, 24 September 2020 | Sarah
Semperfli Fly Paint in Fluorescent solid and metallic enhanced colours give the ability to enhance flies like never before.
Friday, 14 February 2020 | Sarah
New catalogue, new materials and plenty of hits, tips and advise from Semperfli and their Pro Team. The photos of the flies are astounding real works of art! Even if you are not into tying flies yourself looking at the 'magazine' style catalogue can inspire you.
Thursday, 22 August 2019 | Sarah
Have you fallen foul to the rumers that Picric Acid is unsafe and want to learn the truth? Look no further as we teamed up with Semperfli to help clear things up for you.
Wednesday, 17 July 2019 | Sarah
Do you know what hackle you need or what grade to tie your fly?
No? ... Not a problem, we didn't either when we started and we felt silly for asking, like everyone should know these things!
Help is at hand in our easy guide for you to understand hackles and the Metz grading system a bit better to make your tying easier and knowledge greater!
Tuesday, 25 June 2019 | blogmanager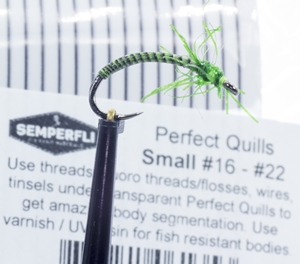 Amazing new synthetic quills released by Semperfli available now
Monday, 10 July 2017 | Andy
Foam has been used for many years in fly tying. Fly tying foams come in many forms, as flat sheets which can be trimmed to size and used for bodies for example as bodies of grasshoppers or floating terrestrials and lures, it can be shaped as poppers used for many lures or as cylinders which can be used for bodies for exampleas a detached mayfly body or used for its buoyancy in a Foam Arsed Blob . Foam comes as open or closed cell in closed cell, in closed cell foam bubbes of air are trapped unline open cell foam which has broken adjoining cells. Open cell foam means water can flow into the foam giving it limited floating capability whereas in closed cell foam the bubbles as all closed trapping gas which is gives buoyancy. Normally for the fly tyer is that we usually use closed cell foams
Monday, 3 July 2017 | Andy
What should a new fly tyer look for in a kit or should they purchase to start fly tying? There are ready made kits in the market produced by companies like Veniard ranging from tools kits to kits with tools and some feathers to ultimate fly tyers staters kits containing a vast variety of tools and materials.

So What does a person starting fly tying really need to purchase to start fly tying?
Saturday, 1 July 2017 | Admin
Fisker / Tubeology Plastic system is a tube syste with a difference. Plastic and metal tubes that can be cut to length to make any tube fly with interchangeable heads, clear, fluoro red, black or depth diving tungsten.
Created in Denmark the sytem is ideal for small summer salmon flies through to large predator and saltwater tube fly patterns.
Monday, 26 June 2017 | Admin
Friday, 9 June 2017 | Admin
As Hans said on his Facebook page "Now the peacock bird get on the red list of endangered species Straggle String suddenly becomes indispensable as synthetic substitute. It is an awesome material. Here replacing natural peacock herl for synthetic and the results are amazing."
Monday, 13 March 2017 | Admin
Thursday, 22 September 2016 | Admin
Free tying guide!
1 Comment
Monday, 19 September 2016 |
Admin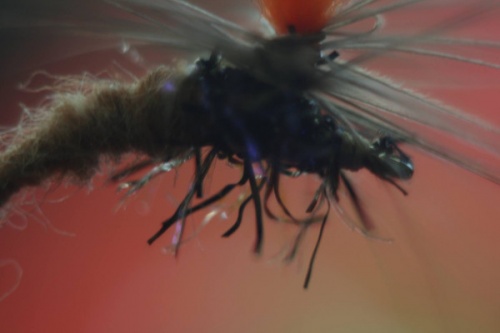 Hans Van Klinken, Barbless Mohicans, & Straggle String
Sunday, 4 September 2016 | Admin
Materials, instruction, background - we present to you, the Inferno Bug.
1 Comment
Tuesday, 23 August 2016 |
Andy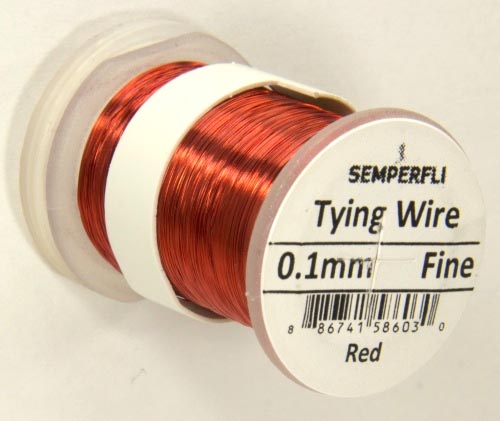 Wires have have 3 primary uses in fly tying as:
bodies in flies like the Copper John
to add weight to a fly to help it sink or
as ribbing on both dry flies and lures, nymphs and streamers.
Wires come in different guages or sizes 0.1mm, 0.2mm and 0.3mm the most common in fly tying and in a range of colours.
Wednesday, 28 October 2015 | Admin
Celebrity adventurer Ben Fogle has praised the skills of all those who spend their time in the water with their fly fishing rods after he attempted to learn the art for his new television show.
Tuesday, 20 October 2015 | Admin
Family Friendly Fishing Platforms Installed
Wednesday, 2 September 2015 | Admin
Wednesday, 2 September 2015 | Admin
Sunday, 30 August 2015 | Admin