If you are fishing in summer you may be using a lightweight plastic tube based salmon tube fly, keeping it high in the water or even hitch tubes so that it skates the fly on the surface in low water. So what are the best flies for salmon? of course the answer cnahges as seasons change. Late in season you may be using copper tubes, aluminium tubes or bottle tubes to get deeper in spate waters. Patterns tied could be traditional scottish fly selections typical salar double flies Blue Charm, Willy Gunn, Hairy Mary, Stoats Tail, Silver Stoat or Munros Killer of a more modern pattern like Collie Dog or Ally Gowans Cascade Shrimp. For some real fun we even have Bomber dry flies, brilliant fun for summer salmon. Don't forget in the same salmon water we have returning sea trout which will take many of the salmon pattens or use more specialist sea trout fly patterns like Jambo or Snake flies. Whatever your requirement for salmon fly fishing flies we use quality salar double hooks, copper tubes, brass tubes and plastic tubes with Atlantic Salmon flies that will help you catch fish whatever the conditions!
Our Essential Salmon Fly Range
Our complete range of Atlantic fly patterns. Our Salmo Salar range includes complete collections; Allys Shrimps; Hairwing Flies; Irish Shrimps; Snakes; Tube Flies; Snaelda; Sunray Shadows and Salmon Dries called Bombers
We deliver all around the world even direct to fishing lodges. We do not believe in the sale of cheap salmon flies but sell a vast range of quality best flies for salmon for any venue you wish to fish at. See the reviews by other fishermen
For fly tyers we have a massive range of fly tying materials, with hooks including Patriot Doubles, gold doubles, conehead tubes, micro tubes and brass, aluminium and plastic tubes. Check our fly tying department for the materials you require from Cashmere Goat to tie a Collie Dog to Golden pheasant crest and Black cock hackle for your Stoats Tail. For fishemen we have a large fishing tackle department with rods, reels and gear for all your needs.
Many fly fishermen rely on our flies, from traditional backed up with our famous customer service, all flies come with our quality guarantee! If you are not sure which are the best fly for salmon at different times of year check our selection colour & size chart below showing colour and size recommended through the the season. See our salmon related fishing articles here.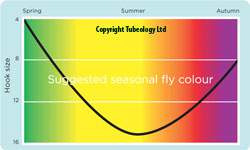 There are lots of types of styles including tube flies, irish shrimps, hair wings, pot bellied pigs, snakes to shrimp fly patterns from black shrimp to shrimp silver. Each fly type has it's own benefit; for example a tube fly can have much more weight if a copper or brass tubes are used or lighter if nylon tubes are used. Hairwings give lots of movement triggering attacks where an Irish shrimp fly pattern looks like natural shrimp food for salmon.
Fly hook size requirements vary. In the early season size 4 flies with green colours are more successful for salmon fishing. Mid season colours change from yellow patterns to orange colour and as the season progresses the successful flies get smaller. During the height of summer you may be using flies as small as size 16. At the end of the season red dressings work well then finally purple coloured flies at the tail of the season with flies well now in the size 8 range.
Basic Salmon Fishing Techniques
Upstream & Downstream Techniques
Cast your fly across the current and let it swing normally. Keep tracking the fly as it moves downstream slowly descending as it moves downstream. When the fly reaches the end of it's arc, keep the fly fluttering for a few moments as this can often trigger bites.
Alternatively the fly is by casting upstream and letting it sink. As the fly drifts downstream there is no drag from the flyline, basically the fly will sink more rapidly without drag. Using this method you can fish a lot deeper than on the upstream arc casting method. Keep contact with the fly as you need to be ready to set the hook if a fish should strike the fly on the almost slack line! Watch the leader for movement indicating a bite.
Other Fishing Flies
Of course as well as Atlantic Salmon Flies we have specialist departments for saltwater flies, seatrout flies and Rainbow and Brown Trout flies. Our massive range and advice is used by fly fishermen world-wide.