Tips On Fly Leaders - More Important Than Your Fly Rod Yet Often Overlooked
26 August 2015 | Admin

Fly Leaders are the most important piece of tackle there is yet is is not thought about enough! So when Umpqua Feather Merchants launched one of the hottest fly fishing tippets we have ever seen we have been desperate for stock. We took our Red Hot Tapered leaders, played with them and loved the results. This is by far the most innovative Fly Tippet or tapered leader we have ever seen. My eyesight used to be fantastic in my youth, however as my hair gets more and more grey my eyes get weaker at the same time and all too frequently I find I lose the fly as it floats down the river or I miss bites due to missing gentle and subtle takes. Since fishing with the Red Hot Tapered Leader I have found I miss less fish and see more bites due to its innovative colouring of the butt section on this stunning tapered leader. However, this made us think how under-rated the most important piece of tackle a fly fisherman uses is! Typically we all take tapered leaders and leader material for granted however next to the fly it is more important than even our fly rod, reel or line. We spend a lot of money on high end rods yet do not stop often enough to look at our leaders which when you think about it are the critical link to the fish. We do not always think about the colour of the water, for example if it is peaty brown in colour then Stroft ABR is more brown in colour and will be less visible or if fishing a river Stroft GTM is a more blue to transparent colour or standard Essential Fly transparent tapered leaders.

Preparing the Leader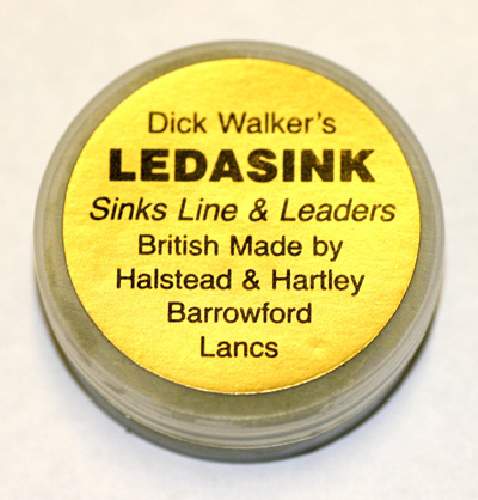 One of the most important lessons for me was leader preparation at the river or lakeside. Today you will never find me without a tub of Dick Walker's Ledasink which removes the surface tension on monofilament to allow them to sink but most importantly to reduce flash and glint. Before I cast with any leader you will find me running the entire length of the leader through my tub of Ledasink at least twice, then I run the line through my handkerchief. The result is that the chemicals always present on line is removed. If you cannot afford Ledasink then use some mud from the riverbank there is no excuse!
Umpqua Red Hot Tapered Leaders
The Umpqua Red Hot Power Taper tapered leaders was the product that made us really think about our tapered leaders, and general leader usage. Designed for lake and river fishing to track flies like a gun sight, dry flies can quickly be found by looking down the tapered leader like a gun sight. When czech nymphing I use the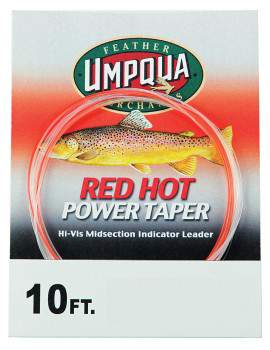 red section of the leader as a depth guage and the red section and milky butt section gives me perfect bite indication.
8.5lb and 6lb are perfect for lake fishing with larger rainbows and the 3.5lb and 5lb fantastic weight and size on for rivers. Whenever we need a longer tapered leader I simply add heavy monofilament on the butt or Stroft on the tippet according to the water colour often making my tapered leaders 15 to 20 feet in length
Another neat trick for with these Umpqua Red Hot leaders and the Essential Fly transparent tapered leaders has been to use these on the reservoirs and lakes tying on my own droppers onto the 8.5lb 3x. It has helped both casting as I have the tapered leader to assist turnover without messing about measuring length of different size tipper material. I have found this superb for buzzer fishing or for example on lakes. With the rifle sight indicator I can pick up the most gentle of bites.
As Sandy said after he tested these leaders on Bishop's Run and Duncan's Pool's on the Welsh Dee - "This is really a superb bit of kit! I could pick up fish bites I had not been able to pick up previously in bubbly sections of water" he continued "Whenever I lost sight of my fly I looked down the milky section of leader and picked up the fly really quickly". For river fishing I now personally use these leaders exclusively when nymphing or czech nymphing, the indicator of the tapered leader proves a great assistance.

Essential Fly Tapered Leaders
The normal Essential Fly transparent tapered leaders have always been a backbone of my fishing, again adding Stroft according to water colour. When going for really fussy Rainbows, those large beauties that spook at the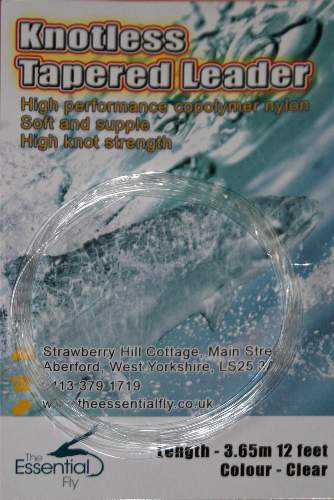 slightest issue I use transparent leaders, extending these to 20 feet with single buzzers or cdc emergers on! As the buzzers emerge 365 days per year I have always found this a deadly technique on most waters. When the trout circle they do not get spooked by other flies or coloured lines or indicators. Indeed my local small fishery is one where the trout are extremely wary, often they will not take a cdc emerger or dry fly until they have "rushed" the fly and made it start to sink! Using a long leader
Leader Thickness
On rivers I use a Stroft tippet on a tapered leader which is 0.12mm diameter which is 1.8kg or 3.6lb breaking strain. I rarely go smaller and do not go larger on rivers, typically this is virtually invisible to a trout and larger diameter decreases my catch rates, smaller and it does not increase and I tend to get more breakoffs. I will not use larger than a #5 rod for the rivers. On Reservoirs and lakes it is a very different issue because the fish are frequently larger, I still try and use a #5 although may step up to a #7 or #8 in extremes. For a #7 or #8 I will step up to at most 0;18mm diameter which has 3.6kg or 7.5lb breaking strain.
Knotting Fluorocarbon and Stroft
Key with fluorocarbon and Stroft is to moisten the knots as they are being tied. Because of the manufacturing process and materials these become frail under heat, believe it or not the simple act of pulling a knot tight creates heat and can weaken a knot. Tied to manufacturers recommended knots (shown on the packaging) simply put the knot in your mouth and moisten with your tongue as it is pulled tight. This dissipates the heat and leaves the knot much stronger.
Droppers
Today I never buy leaders with pre made droppers, I always start with a tapered leader so that it helps me with turnover on my cast. However Sandy Dickson taught me a real nice trick when we were having a competition in Scotland. Every dropper Sandy ties has had a drop of superglue or anglers glue, the result is droppers that are less likely to get tangled on casting as they are held at right angles to the main leader. A neat trick from Sandy and one that helped me fishing against him that fateful day in Scotland!