Introduction To Fly Tying Wires
1 Comment
23 August 2016 |
Andy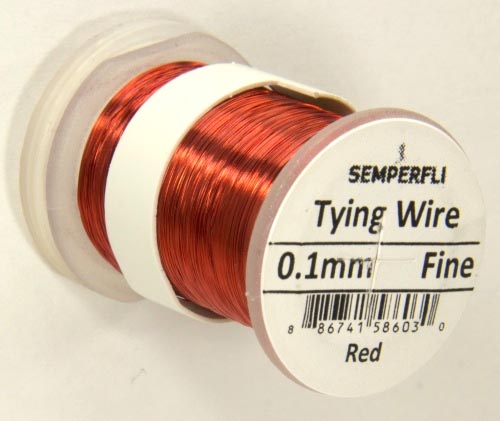 Wires have become more popular for fly tying as they have been developed with coats of varnish to prevent tarnish and rust helping them sparkle longer.
Wires have have 3 primary uses in fly tying as:
bodies in flies like the Copper John
to add weight to a fly to help it sink or
as ribbing on both dry flies and lures, nymphs and streamers.
Wires come in different guages or sizes for fly tying:
0.1mm ideal for dry flies and small nymphs
0.2mm ideal for moist nymphs and streamers and
0.3mm for large streamers and predator fly patterns
Useful wires colour for fly tying are as follows:
Black
Pinks
Green
Gold
Silver
Brown
Chartreuse
Red
Blue
Advice When Tying with fly tying wires:
Never use scissors, these will become blunt. Simply bend the wire back and forward to break it.
0.1mm are fine for dry flies as a rib, not too heavy to drag the fly underwater
0.2mm wires are ideal for streamers and nymphs
0.3mm wires are ideal for larger Predator flies and Saltwater patterns
The Standard Wire Gauge (SWG) series commonly used in Great Britain were given in BS 3737: 1964. The SWG standard is now withdrawn. The basis of the system is the millimeters, or 0.001 inches.
Fly tying wire manufacturer comparison chart
| | | | |
| --- | --- | --- | --- |
| Wire Diameter mm | Manufacturer | # Colours | Approx SWG (Standard Wire Guage) |
| 0.1 | Semperfli | 17 | 43 SWG |
| 0.11 | UTC | 7 | 41 swg |
| 0.2 | Semperfli | 17 | 36 swg |
| 0.2 | Uni (Fine Wire) | 6 | 36 swg |
| 0.3 | Uni (Medium Wire) | 7 | 31 swg |