Brown Trout Fly Selection
21 June 2013 | Andy
Selecting Brown Trout Flies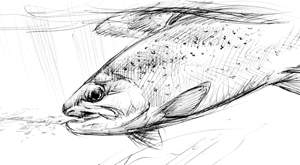 Brown Trout are generally looking for flies that are imitative of the natural food found in their environment, it may be a Blue Winged Olive, Caddis, shrimp or Rhyacophila nymph that look similar i.e. they are imitative or exact imitative of the natural bugs in the water. With imitative flies they look similar to the natural fly or invertebrates found. Generally imitatives must be fished so that they look like the 'natural' i.e. when fishing dry fly such as a Blue Winged Olive they cannot be dragged across the current by the fly leader, after all natural Olive do not skate across the water! Another alternative is be suggestive flies. These may be flies like the gold ribbed hares ear or pheasant tail, these do not imitate any invertebrates or natural flies, indeed these were created to look and act like the natural food for the Brown Trout. Did you know the pheasant tail and grhe (Gold Ribbed Hares Ear do not match any bug in nature!). Above 12" in size the Brown Trout will prey heavily on fish so try using woolly buggers or epoxy minnows which are good imitators of small fish.
While in fresh water, diet of the Brown Trout will frequently include invertebrates from the streambed, other fish, frogs, mice, birds, and insects flying near the water's surface. As a fly fisherman we will seine net and kick sample to check what is in the stream bed. The high dietary reliance upon insect larvae like baetis, pupae, nymphs and adults is what allows trout to be a favoured target for fly fishing. Sea trout are especially fished for at night using wet flies. Brown trout can be caught with lures such as spoons, spinners, jigs, plugs, plastic worm imitations, and live or dead bait fish, sculpins being very popular. Freshwater brown trout range in colour from largely silver with relatively few spots and a white belly, to the more well-known brassy brown cast fading to creamy white on the fish's belly, with medium-sized spots surrounded by lighter halos.
Brown trout can grow to 20kg! however in rivers a 1 to 1.5kg fish is normally a good fish with reservoir or lake fish growing substantially bigger, catch one of these with a fishing fly and it really will "tug your string". Large Brown Trout in reservoirs and lakes produce runs like you have hooked a torpedo!
Trout Flies, Wet Trout Flies, Dry Trout Flies, Trout Buzzers, Trout Lures & Trout Streamers
Brown Trout Fly Patterns
Note the colour variations between Brown trout with a river caught and lake caught fish!
River Caught Brown Trout
Note the deep brown colouration of this river caught Brown Trout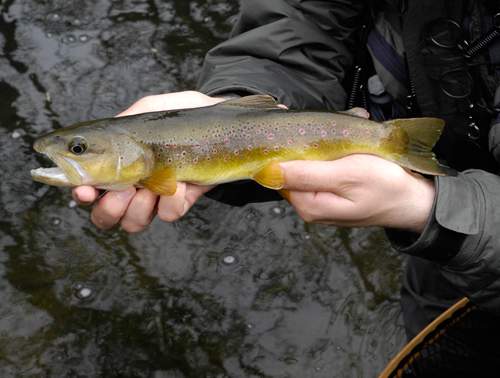 Lake Caught Brown Trout
Much lighter brown colouration showing the vast variation of colours of the natural brown trout.