Introduction To Choosing Fly Tying Thread, Denier, Ought Sizes, Thread Sizing & Breaking Strains - All Explained Here
Fly Tying Thread Blog Posts
Check Out Our Full Range Of Fly Tying Threads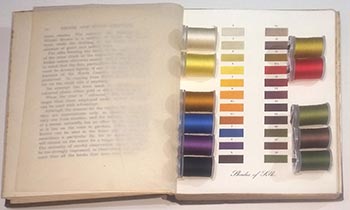 Fly tying thread is one of the most used materials for a fly tyer. What is the best fly tying thread, which should you chose? There are very few fly patterns that do not demand fly tying thread of some type to hold the materials in place. The best thread depends on what you are tying, find out more here.
So bacically the fly threads secure the fly tying materials to the hook. Fly Tying Thread come in a massive range of sizes from 18/0 to 3/0 or 30 denier to 200 denier using more modern sizing. Black is a very popular colour along with Olive but their is a vast range of colours available of threads.
Fly tying threads can be pre waxed or wax can be added to reduce the slip and allow materials such as dubbing to ahdere to the thread for easy application to the hook.
Today threads range from silks, nylon, rayon to modern materials like Kevlar and GSP Gel Spun Polyethylene which is extremely strong. In the past materials diameter determined its strength whereas now that is not the case with materials like GSP. Threads can be twisted like Uni threads or lay flat like Semperfli Nano Silk GSP, each has its own advantages/
There are many companies producing fly tying threads specifically for the fly tyers and these include:
Uni
Semperfli
Roman Moser
Veniard
Gordon Griffiths
UTC
Danville
Bennichi
Veniard
Pearsalls
Thread diameters were created in the 1930s. In the fly tyers have been using 6/0, 8/0, 12/0 fly tying threads plus many others, however in 1988 WAPSI fly introduced a thread called 70 UTC and 140 UTC for their UTC threads based on Denier sizing. There has been confusion since!
Denier is defined as the weight in grammes of 9000 meters of polyester, nylon or rayon threads. There is also now for most threads a correlation between the breaking strain on most threads for examply typically a 70 denier thread will be stronger than a 30 denier thread. HOWEVER, GSP or Gel Spun Polyethylene is an exception to the rule as GSP can be from 3 to 9 times stronger than nylon or polyester of the same denier. For example Semperfli Nano Silk 30 Denier has a breaking strain of 1,140gm / 40 ounces yet the thicker Uni 17/0 or 40 denier thread made from nylon has a breaking strain of 140gm / 5oz, Nano Silk over 8 times stronger. This gets further confusing as even GSP's are not the same, for example Veevus 12/0 GSP breaks has a breaking strain of 530gm compared to Nano Silk 12/0's 1900 gm, 3.6 times stronger due to its special makeup! Presently, there are threads available, which although identical, are labeled with vastly different N/0 size
So the best we can hope for as fly tyers is a guide to the thread diameter so that we can gauge the size of head that will be created using a thread. Of course a twisted thread will be thicker than an untwisted thread which will lay flatter on the hook.
Thread Stretch
Nylon has about 25% stretch, polyester around 15% stretch, and gel spun only 3% stretch
| | |
| --- | --- |
| Thread Aught Sizing | Approx Denier |
| 1/0 | 600D |
| 3/0 | 180D |
| 6/0 | 100D |
| 8/0 | 70D |
| 10/0 | 60D |
| 12/0 | 50D |
| 18/0 | 30D |
Thread Twists
Most threads are made by twisting multiple plies to make the required size. Left Twist (or Z-Twist) thread is twisted to the left and works with almost all single-needle machines. Right Twist (or S-Twist) thread is twisted to the right and is used with some U.S. double-needle machines.
Approx Thread Breaking Strains vs Aught Sizes
| | | | | | |
| --- | --- | --- | --- | --- | --- |
| Thread | Material | Approx Denier | Aught Size | Breaking Strain Lbs / Ounces | Breaking Strain Grammes |
| Danville | Nylon | 70D | 6/0 | 11oz | 311gm |
| Uni | Nylon | 100D | 6/0 | 1lb 13oz | 822gm |
| UTC 140 | Nylon | 140D | 6/0 | 2lb 12oz | 1360gm |
| Semperfli Nano 6/0 | GSP | 100D | 6/0 | 8lb 5oz | 3,800gm |
| Wapsi GSP 100 | GSP | 100D | | 6lb 15oz | 3,146gm |
| 8/0 Threads | | 70D | | | |
| Roman Moser Powersilk | GSP | 55D | 8/0 | 2lb 6oz | 1,077gm |
| Benecchi | Polyester | 150D | 8/0 | 1lb 13oz | 822gm |
| UTC 70 | Nyon | 70D | | 13oz | 368gm |
| 12/0 Threads | | 50D | | | |
| Gordin Griffiths Sheer | Polyester | 72D | 14/0 | 10oz | 283gm |
| Semperfli Nano 12/0 | GSP | | | | 1,900gm |
| Wapsi 50D GSP | GSP | 50D | | 2lb 5oz | 1,048gm |
| 18/0 Threads | | 30D | | | |
| Danville Spiderweb | Mono | 30D | | 5oz | 140gm |
| Uni | Nylon | | 17/0 | 5oz | 140gm |
| Semperfli Nano 18/0 | GSP | 30D | 18/0 | | 1,140gm |
Fly Tying Threads By Breaking Strain
| | | | | | |
| --- | --- | --- | --- | --- | --- |
| Thread | Material | Approx Denier | Aught Size | Breaking Strain Lbs / Ounces | Breaking Strain Grams |
| Danville Spiderweb | Mono | 30D | | 5oz | 140 |
| Uni | Nylon | | 17/0 | 5oz | 140 |
| Gordin Griffiths Sheer | Polyester | 72D | 14/0 | 10oz | 283 |
| Danville | Nylon | 70D | 6/0 | 11oz | 311 |
| UTC 70 | Nyon | 70D | | 13oz | 368 |
| Uni | Nylon | 100D | 6/0 | 1lb 13oz | 822 |
| Benecchi | Polyester | 150D | 8/0 | 1lb 13oz | 822 |
| Wapsi 50D GSP | GSP | 50D | | 2lb 5oz | 1,048 |
| Roman Moser Powersilk | GSP | 55D | 8/0 | 2lb 6oz | 1,077 |
| Semperfli Nano 18/0 | GSP | 30D | 18/0 | | 1,140 |
| UTC 140 | Nylon | 140D | 6/0 | 2lb 12oz | 1360 |
| Semperfli Nano 12/0 | GSP | 50D | 12/0 | 4lb 3oz | 1,900 |
| Wapsi GSP 100 | GSP | 100D | | 6lb 15oz | 3,146 |
| Semperfli Nano 6/0 | GSP | 100D | 6/0 | 8lb 5oz | 3,800 |