What Tackle You Need To Start Fly Fishing
Tuesday, 6 June 2017 | Andy
If you're new to the art of fly fishing and don't know your carp flies from your trout lures, have a read of this quick guide to the equipment you'll need to invest in, from fly fishing clothing to tackle like rods and reels.
Rods
First of all, you need to invest in the right kind of rod for you. Rods are the starting point for every person starting fly fishing, for beginners mid action rods are often easier to cast, find out more about rod action here. As a simple guide decide what you want to spend on a rod, they vary greatly, then if you are fishing :
small streams try rods around 3 weight say 5 to 8 feet casting small flies on light lines which make little splash when landing so you don't disturb those small brownies you are likely to be chasing
larger rivers or small stillwaters then a 9 to 10 foot 5 weight fly rod is likely to be most suitable
large stillwaters of boat fishing a 7 to 8 weight 9 to 10'6" rod is probably idea
czech nymphing a 3 to 5 weight 10 or 11 foot fly rod is ideal
Typical Fly Rods Usage By Line Weight
| | |
| --- | --- |
| Weight | Typical Usage |
| #2/3/4 | Stream / brooks for Brook & Brownies & Grayling |
| #5 | Small rivers, brooks & streams for Brownies & Grayling |
| #6 | Rivers and small lakes when fly fishing for Brown & Rainbow Trout |
| #7 | Used for Lakes, boats & reservoir for Rainbow Trout, Larger Brownies & Blue Trout, Small River Grilse Fishing |
| #8 | Reservoir & boats, plus saltwater fly fishing for Rainbows, Larger Brownies & Blues, Salmon Grilse Fishing & saltwater species |
| #9 | Larger rivers and reservoirs fly fishing for large trout, largemouth bass, pike, steelhead & salmon |
| #10/11/12 | Large rivers & saltwater, Salmon & Saltwater species |
Reels
There are lots to choose from so consider what type of fish you'll likely be going for the most. For example, if you want to catch salmon the reel will have to have enough capacity to hold sufficient backing and a speycasting line. Always match your reel to your fly rod. For more advice check our full post on fly reel features
Polaroid Sunglasses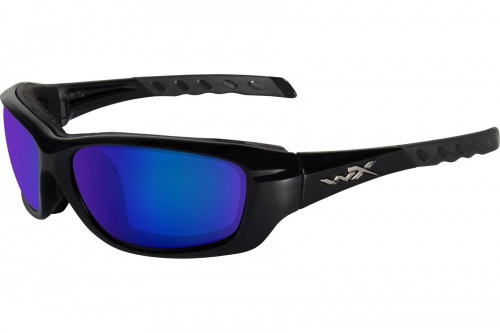 Why are polaroid sunglasses required? These are an essential piece of equipment, firstly safety - the glasses stop the fly which whizzes back and forward entering our eyes .....yes it has happened! With a fly passing close to you, your boat partner or anyones eyes, sunglasses are essential. Polarised sunglasses do, of course, also remove the surface glare from the water and allow us to see and target fish with of fishing flies.
Lenses come in polycarbonate or glass lenses and vary tremendously in price. Polycarbonate glasses are usually the lightest. Different shades of lenses are available whith different uses as follows:
Copper Color Lenses: These are general fishing lenses in freshwater ideal "all rounder" for rivers and Stillwater's alike.
Yellow Lenses: We find these perfect for low light conditions a must have for those late evening rises on rivers and stillwaters.
Blue Mirror Lenses: These are usually a lens for blue water / saltwater fishing but favoured by many for the flats also, whenever you go for bone fishing these are usually the colours or.
Green Mirror Lenses: Designed with the saltwater flats in mind but equally at home in the UK on saltwater or freshwater.
Waders & Wading Boots
You need to have room to backcast when you fly fish so standing on the bank often isn't an option. Sometimes, you have to get in the water. Get yourself some waterproof waders so you can go in the river if you need to. We can be wading knee deep searching for grayling or waist deep chasing that illusive salmon or trout. Waders are available in different forms, breathable, neoprene and rubber, each has its own advantages and disadvantages. Breathable Waders are ideal for fishing! Under your breathable waders you will wear undergarments. Even in winter breathable waders simply add more layers under your waders to keep warm. Layering up with breathable waders means that your investment will be protected and you can use these all year from the hottest summer day to the depths of winter chasing grayling. Neoprene Waders are strong and insulated these keep you warm in the coldest water with their thick layer of neoprene for warmth. Additionally Neoprene has the added advantage of floatability. The small air bubbles trapped in the neoprene help to float the waders.
Wading boots typically come with felt soles or boot soles so you can stand on the rocks without slipping. It is important that you buy wading boots one size larger than your standard shoes. You waders usually have neoprene socks which are large and need room in their boots. Check our range of wading equipment here
Fly Line
There are many different types of fly line, floating, sink or midge tip, intermediate or fast sink. Each have different benefits based on where the fish are in the water. However for a new fly fisherman we usually advise starting with a floating line its easier to cast and also easier to see bites.
Fly box
Make sure you have one of these to keep your flies in. Otherwise it's very easy to lose them as they're so small. Make sure it can keep them all secure – if you drop the box, flies will go everywhere. Fly boxes come in many sizes from small patches that fit on your wastcoat used for storing and drying flies to boxes that fit in the pocket and large fly boxes storing hundreds of flies used when boat fishing.