Salmon Flies Selection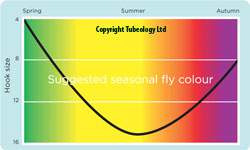 So you are going salmon fly fishing, what a superb sport but the problem is what salmon flies do you use? Unlike a trout where we can see them rising to flies and eating from the surface, with salmon we are triggering the predatory instinct. Salmon do not eat once they enter fresh water. If you speak to Finnish fly fishermen they use small sparsely

dressed flies like sunray shadows, Scottish fishermen may traditional patterns like Hairy Mary salmon fly, Willie Gunn tube fly, Stoats Tail green butt known in USA as Black Bear green butt, or a Blue Charm salmon fly and a Canadian may use Intruders.
What are the Popular Salmon Flies By Season?
Spring Flies - 1" Copper Snaelda Black Yellow & Green or

Stoats Tail Green Butt size 4

Summer - Allys Cascade and Allys Shrimps Size 12/14

Late Summer - Willie Gunn, Black and Orange Size 10

Autumn -

Salmon Hair Wing Purple
Why ? So why those flies, well in spring waters are running faster with salmon coming into the waters, fast waters need larger flies hence copper tubes or large salmon flies, green being more productive salmon colours in Spring. Summer sees waters slowing down as the rains ease and sun hits the waters, brighter colours early summer with yellows through to orange then red colours being productive. Hitched tube flies work particularly well and smaller flies producing well through summer. Indeed I have been know to go to tie my own 1/4" or even 1/8" micro tubes in really bright hot summers. Autumn sees more rainfall through to october and the close of fishing on rivers by October or November on the RRiver Nith etc. Larger flies are often needed to combat the rising faster waters and purple is more productive towards the end of Autum season.


Speak to a Norwegian they more modern hairwing flies like Monkey tube flies and Sunray Shadow tube flies talk to a Scot and you will get yet another answer. These are the same salmon species yet everyone fishes for them with different flies!
Flies like Ally Gowans Allys Shrimp range have proved to be superb for Atlantic salmon from Scotland to Iceland and as far as Russia.So what salmon fly do you choose when you go salmon fly fishing? Well there is no magic answer, without doubt modern hairwing flies create stunning movement and account for an incredible number of salmon, however there is a time proven guide that you can use to salmon fly colour and salmon fly sizes as indicated on the charts below which is a great guideline to salmon fly recommendations.

With this chart you can see that early season is the time to use flies like stoats tail green butt with the green acting as an attractant. Late Spring see's the superb Ally's Cascade salmon fly coming to the forefront in a size 10 dropping in size to a 12 or 14 or even 16 in Summer. Summer is a great time to try skating a salmon fly riffle hitch style across the surface. Later in the season try Allys shrimp red and Allys Shrimp purple. Superb flies to use are the Sunray Shadow tube flies, however choose the correct Sunray Shadow colour based on the season you are fishing they are available in different colours.

Don't forget the classic Icelandic trigger patterns Red Francis and Black Francis which are superb shrimp patterns with their boar bristles.
So tight lines, we hope this helps with your salmon fly fishing