22 Comments
Tuesday, 4 March 2014 |
Andy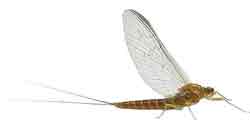 Every month we publish details hatch charts to help you understand what is expected to hatch on rivers and stillwaters and what flies to use to mimic them. With this valuable information we hope that you will be even better prepared for that fly fishing trip
2 Comments
Thursday, 6 February 2014 |
Andy

We the weather improving through March early indications for trout fly fishing are that temperatures should be around 10C and not mad winds like we have had through January and February. There are still superb Trout to be had, Stillwaters are producing stunning Brown & Rainbow Trout and rivers will be opening for Trout mostly on 22nd March. (check local byelaws from the Environment Agency for your rivers).
Sunday, 18 August 2013 | Andy

September sees a weath of fly fishing with some of the summer heat having burned off and some great hatches of flies. What are the best flis? water temperatures are back to normal fishing levels on smaller stillwaters so we are in for a great month of fly fishing we should start to use flies like. ....................
1 Comment
Sunday, 14 July 2013 |
Andy

April almost every fly fisherman will have started their return after the winter break, the last of winter has disappeared and rivers are getting to normality. We see the last of hatches of March Browns in April and on rivers the Pond Olives start to hatch we should start to use flies like. ....................
Friday, 21 June 2013 | Admin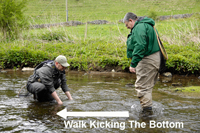 Kick Sampling is the key method to use on rivers to establish which fishing flies match the nymphs and invertebrates that you should be using. Kick Sampling is an easy process but will reap massive benefits for the fly fisherman each time they try this before fishing, almost every day of the year.
Friday, 21 June 2013 | Andy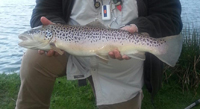 Brown Trout are generally looking for fishing flies that are imitative of the natural food found in their environment, it may be a Blue Winged Olive, Caddis, shrimp or Rhyacophila nymph that look similar to the natural bugs in the water