Sandy Dickson Moves From Fulling Mill to The Essential Fly
Sandy Dickson Moves From Fulling Mill to The Essential Fly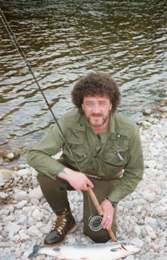 The Essential Fly is delighted to announce the appointment of Sandy Dickson as Professional Fly Tyer and Consultant. Building on the continued growth of The Essential Fly, the appointment of Sandy is an exciting and important development for this dynamic Company.
Previously with Fulling Mill, Sandy Dickson is thrilled to be working with The Essential Fly. "All we ever need is The Essential Fly!" says Sandy. "So many people have umpteen flies in their fly box, yet actually we only ever need our Essential Fly! The passion and fanatical customer service within the people at The Essential Fly is amazing." A proud Scotsman, born on the banks of the Clyde, Sandy has fished all of his life and is a passionate Entomologist and Fly Tyer.
Sandy recognised that business models are changing and the Internet is having a vast impact on the fly fishing industry. "The direct online environment is so easy for everyone today and with real staff at hand also taking telephone orders I really liked the team" comments Sandy." "I wanted to work with a company leading the way in the Internet with traditional service values. Additionally, fly fishing can be considered an expensive hobby for many, so to have The Essential Fly's best value flies yet without compromise on the quality, fly fishing is available to everyone. Backed up by The Essential Fly's fanatical customer service and excellent track record The Essential Fly will go from strength to strength." Sandy's goal now is to work with the team at The Essential Fly to bring out innovative fly patterns to be sold worldwide with an exciting range being prepared for 2009.
Andy Kitchener, Managing Director at The Essential Fly says "We are thrilled to be working with Sandy. His knowledge of all things fly fishing is phenomenal and he is an asset to our Company. Sandy's knowledge of entomology and history of designing flies for Fulling Mill and Crystal River amongst others is invaluable. However we have offered Sandy total freedom with materials and not restricted him from a manufacturing cost perspective, consequently Sandy can design flies without restriction, something previous manufacturers have been unable to do, this has made Sandy so happy, he's like a dog with ten tails! We are very lucky to have him with us. Watch out for some amazing new flies coming out for next year!"
Charles Jardine
An old friend of Sandy's, Charles Jardine, is a great admirer of his work. "Sandy is one of the greatest innovators I have ever come across" says Charles. "Some of his patterns are mad but are always completely divine" he goes on with a smile. "Sandy really comes up with some gems."
Press Details Are Below