River Clyde Salmon Opening day
Tuesday, 14 February 2012 | Admin
Well Saturday's salmon opening day went extremely well, I arrived at the Popinjay hotel before 9am.
After meeting up with the usual suspects everyone gathered inside the restaurant of the Popinjay, we were all made to feel very welcome in the hotel by the staff who looked on bemused at all these guys in walking boots, waders and wellies make themselves at home in their lovely hotel.
The hotel supplied tea, coffee and rolls and sausage which was a nice touch and gratefully received.
There were a few speeches to get out of the way before the procession to the river left the hotel, Matt Mitchell and the provost said a few words followed up by Peter Anderson who put us all straight on how we are all getting the wool pulled over our eyes with the new fangled technologically advanced all singing all dancing tackle that the tackle manufacturers try every year to persuade us all that we need and that life itself would not be worth living with out the latest rod, reel and line.
A great inspiring speech from Peter with no beating about the bush!
After the speeches everyone mustered outside the hotel where the police got everyone in to some sort of orderly procession ready to make our way to the Mauldslie bridge.
Once there was a break in the traffic, the road was closed and we were escorted along the road to the bridge with a lone piper at the front of the procession playing the bag pipes.
Once we reached Mauldslie estate everyone gathered on the banks where the traditional ceremony took place with a Quich full of Glenfiddich a toast was made to the river and whisky was poured from the quich in to the Clyde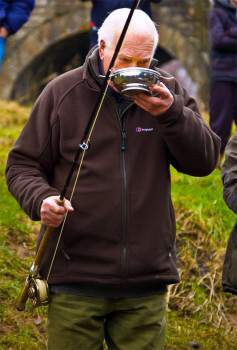 Peter then tackled up and made the first cast of 2012.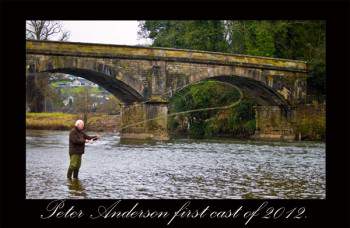 I had high hopes for Saterday's opening ceremony and I happy to say that UCAPA have done a great job, everything ran like clock work there must have been a lot of attention to detail made when planning this event because nothing was a miss.
I would like to say thanks to UCAPA for agreeing that a opening day ceremony would be a good idea and I would like to say thanks and well done to Billy Gillan who took on the task of organising UCAPA's first ever salmon opening day.
That's you in the history books now Billy
I hope this tradition carries on for many more years.
- River Clyde Fishing