More on Adams Dry Flies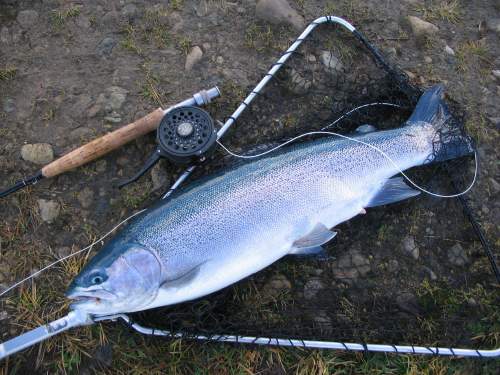 I just wanted to let you know that I have just returned from an afternoon's fishing in a snow storm with one third of the lake unfishable due to ice cover....hardly the conditions for dry fly fishing! But your SUPERB size 12 Adams Para. fly came up trumps again. Fishing with a 5/6 Greys GRXI 9 foot rod, WF6F line and 6 lb b.s. fluocarbon leader, this beautiful blue trout of 7 and a half pounds took all of my line down to the backing. I can't help but lyricise on the merits of this fly. Since buying 16 of them from you just a few weeks ago I have taken (and returned) 34 trout in 4 outings. The biggest ( a brown) of nine and a half, and none less than 5 pounds. If proof is needed of the effectiveness of this fly.....there you have it. I shall be fascinated to find out whether this will be such a successful fly at other times of the year. If it works as well as this in winter, how can it fail?!
Derek Pitman, Filey, North Yorkshire.