Loch Duich & Loch Alsh (Scottish Highlands)
Monday, 13 February 2012 | Admin
I have the opportunity to fish Loch Duich, Loch Alsh and surrounding Rivers and Coastline this coming June.
Has anyone fished it recently?
I would appreciate any hints/tips you are prepared to share... Flies, Rigs, Techniques, Location etc.. ?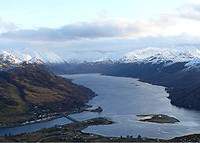 I have googled and the only information i can find on LochDuich fishing is this Legend........
A legend connected with Loch Duich states that three brothers who went fishing at the loch one night became enraptured by three seal-maidens who had thrown off their furs, assumed the likeness of humans, and danced in the moonlight on the sands. The brothers stole their furs, intending to claim the seal-maidens as their wives. The youngest brother, however, moved by the seal-girl's distress, returned her seal-skin. For his kindness, the girl's father allowed the youngest brother to visit the maiden every ninth night. As for the other two brothers, the middle brother lost his wife after the seal-maiden he had captured found her stolen fur, while the eldest brother burnt his wife's fur as a preventative measure, only to burn her accidentally in the process.
I wonder what my wife would say if i had the opportunity to visit a maiden every ninth night?........ :-)
- Jamie