Best Fishing Web Site Winner & Runner Up In Best After Sales Service In Total FlyFisher Magazine Awards
Monday, 7 November 2011 | Admin
Best Fishing Web Site Winner & Runner Up In Best After Sales Service In Total FlyFisher Magazine Awards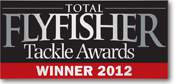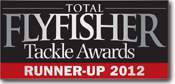 In a survey by Total FlyFisher Magazine across thousands of fly fishermen The Essential Fly won the award for the Best Fishing Website and was Runner Up For Best After Sales Service. The team at The Essential Fly are delighted to win this award and we would like to thank every customer voted for us! We work on the principles found in good businesses, good customer service, good products and good value for money and "We will always try harder".
With tens of thousands of customers in over 50 countries we have gone from strength to strength and can only thank our customers, the team here and the partners who help us deliver our website and customer service.

Many thanks from The Essential Fly for your votes!