1st trip of the season
Thursday, 5 April 2012 | Admin
Long time no blog! ….
Work has kept me incredibly busy over the last couple of months and so I decided I had to make a serious effort to get my line wet!
My alarm went off VERY early… Early enough for me to get to the local river and set up before daylight arrived. It was cold, misty and the water levels were quite low, but it was my first trip out this year so it was good enough for me.
It turned out to be a very productive couple of hours, with quite a number of very good sized Brownies and a few large out of season Grayling. In fact, in those couple of hours, I had caught my largest ever river brownie, and my largest ever Grayling! … Does the Grayling count when it's out of season?
I wish I had taken my camera as one of the Brownies had amazing colouring, nothing like the usual catch on this stretch. It had a very rich golden butter underside that I could see well before the fish was landed. Its body was a wash of wonderful pattern, complimented by a large upturned jaw! I think this old man had been hanging out in the river for a good few years.
Such a good session was had that I did the same thing again a day later…this time with camera. Here are a couple of pictures ..................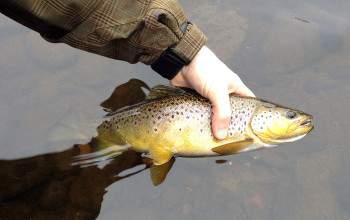 - Jamie