Marsden Mohican Tying Guide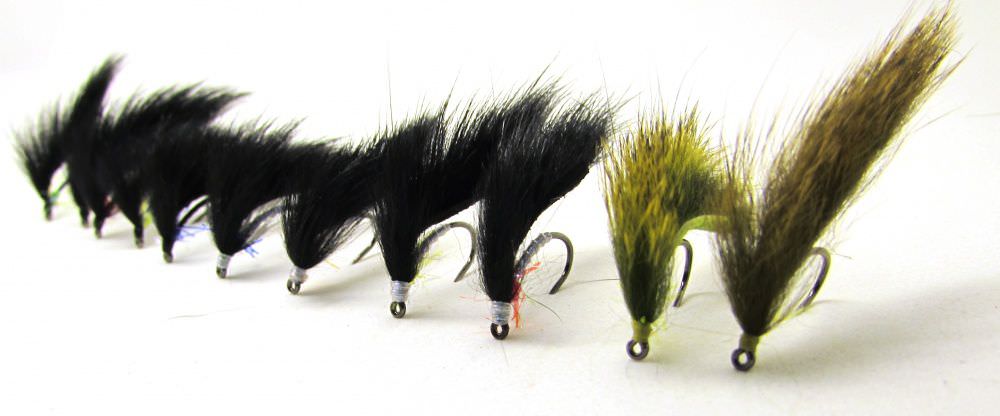 The Iridescent bodied Mohicans are stunning fry imitators, the black bodied and olive bodied all having Semperfli Straggle String thoraxes.
Named in honour of Mick 'The Bathtub' Marsden, these flies have been responsible for some very nice double figure 10 to 20lb trout.
Looking like a fry these work extremely well in the margins retrieved slowly with a figure of 8 and as a general lure. With a Pine Squirrel wing which is highly mobile due to Semperfli Straggle String which sits below the pine as a thorax which projects the wing keeping it highly mobile in the water.
Step By Step Tying Guide
| | |
| --- | --- |
| Hook Info | Sproat Grub or Buzzer #8 |
| Thread | Black 100D / 6/0 (Recommend Nano Silk) |
| Wing | Pine Squirrel Zonker |
| Thorax | Coloured Straggle String (Recommend: Rhyac Green, Fl. Red, Fl. Orange, Fl. Yellow & Fl. Pink) |
Cut a V shape 5mm long on the tail of the Pine Squirrel to form the end of the wing. Cut the wing to 50% be approximately longer than the hook. Now pull the fur off approx 3mm to 4mm on the front of the wing. This will be used to tie in the wing.
Tie the Nano SIlk thread from the eye to the start of the bend on the hook in tight turns to form the body of the fly. Nano silk will lay perfectly flat and create an ultra fine body.
Now using Black+ Nano Silk 100D spin the bobbin to form a tight rope then return the tying thread in wide open turns to create a rib returning to 5mm from the eye of the hook.
Now tie in 4 touching turns of Straggle String to form the thorax, this helps to force the wing upwards which gives high mobility to the fly
Tie the pine squirrel wing just in front of the Straggle String and whip finish. Varnish the head with 3 thin coats of varnish.