Wychwood RS Rod Review July 2016
1 Comment
Thursday, 21 July 2016 |
Admin
Wychwood RS Rod Review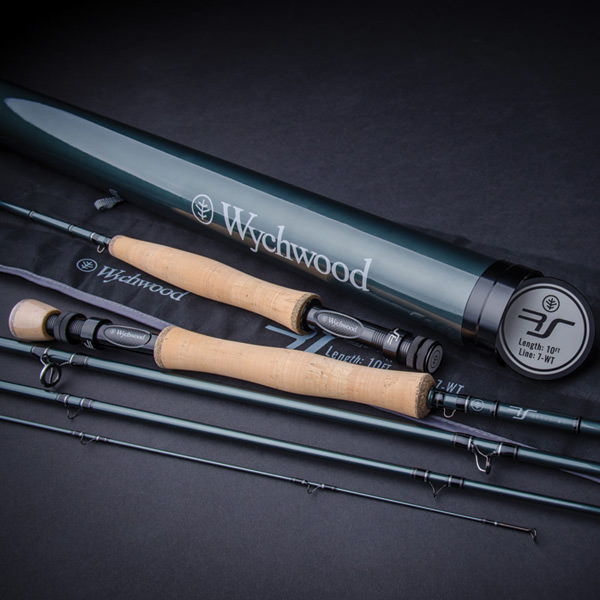 We had an opportunity to test the new Wychwood RS Rod in July 2016. Newly released and now readily available we thought we would do a full test of this new range of Wychwood Rods. The flagship RS series are classy, high-end fly rods which offer exceptional performance combined with a super lightweight design and stunning good looks.
The RS Rods are a totally new range of rods from Wychwood and compete in the very crowded 'mid price' rod sector with prices ranging from £169.99 to £199.99, typically competing against Greys and equivalent rods. Aimed at the still water fly fisherman there are 6 models in the range. The RS rods are made to cover very small stocked fisheries right through to vast reservoirs – from a lightweight 9′ #5 to a heavyweight 10′ #8 ideal for boats and throwing large flies. With this range there is a rod for virtually any UK still water.
As a regular visitor to still waters from my favorite Roxholme Fly Fishery to Scottish lochs holding wild trout and grown on rainbows, I am always looking at rods in this area. Coming from Yorkshire I am also always looking at price vs performance. I love 10' #7 weight rods which will work from banks to boats. So as soon as I saw this rod I simply had to take it and test one.
Wychwood RS Rod Range
| LENGTH | AFTM | HANDLE | WGHT | CODE | SUMMARY |
| --- | --- | --- | --- | --- | --- |
| 9' | #5 | H/WELLS | 3.28oz | MA-A0553 | The 9ft 5-wt model is just the job for delivering dry flies at close range from stillwater banks or indeed targeting trout and grayling on our larger river systems. Weight, 93grams. |
| 9' | #6 | H/WELLS | 3.38oz | MA-A0552 | The 9ft 6-wt model the ultimate casting tool for when precision and delicacy is required on small stillwaters, it can be great addition to your armoury on running water too as it's ideal for fishing with larger streamer patterns. Weight, 96grams. |
| 9'6" | #6 | H/WELLS | 3.45oz | MA-A0551 | The 9ft 6in 6-wt model allows for a more delicate approach for stillwater fishing and it's a great rod for those days when dry fly and nymph fishing is your number one priority. Weight, 98grams. |
| 9'6" | #7 | F/WELLS | 3.73oz | MA-A0550 | The 9ft 6in 7-wt model is a 'go-to' bank fishing rod, for all manner of stillwater methods and styles from stripping lures to the more subtle nymphing and dry fly approach. Weight, 106grams. |
| 10' | #7 | F/WELLS+FB | 4.12oz | MA-A0549 | The 10ft 7-wt model is an exceptional boat or bank rod, no matter what type of fishing application you enjoy, this particular rod will excels in each of them. A firm favourite with both pleasure and competition anglers. Weight, 117grams. |
| 10' | #8 | F/WELLS+FB | 3.98oz | MA-A0548 | The 10ft 8-wt is an out and out work horse of a fly rod, used heavily by the competition angler this exceptionally powerful rod will allow you to fish to everything from floaters to super-fast sinking lines with ease. In the hands of the experienced competition angler, this rod excels. Weight, 113grams. |
First Impressions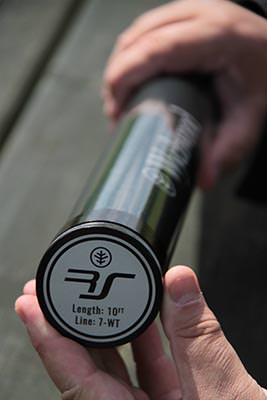 The rod tube is classy catching your eye immediately. It seemingly is made of green carbon fibre, it's very lightweight and looks strong. It's certainly a lot classier than many tubes of similar rods. The green carbon rod tube has a 'high gloss' finish and features the Wychwood logo, it looks superb, really classy in the sunlight.
Unpacking the rod and examining the rods closely it is really attractive with a matt grey finish. I hate glossy rods or coloured rods. I find with a glossy rod that it is too easy to get a sunlight "flash" spooking the fish. The only gloss is over the high gloss black whippings. I'd still prefer these to be matt colour to avoid flash personally. The blank is a High Modulus multi-layer Toray Carbon Blank, it is a faster tip not as fast as some rods but loads to propel line easily. The whippings and fittings throughout are excellent quality.
The rod is a pretty standard four piece construction, it has section alignment guides to ensure perfect alignment of the eyes.
The reel set has a black aluminum reel winch and carbon effect spacer which looks classy, the quality matches rods of a much higher specification and price. The reel seat is a machined, high gloss, anodised reel seat and has a 3K Carbon insert with Wychwood logo, again very classy.
Using The RS Rod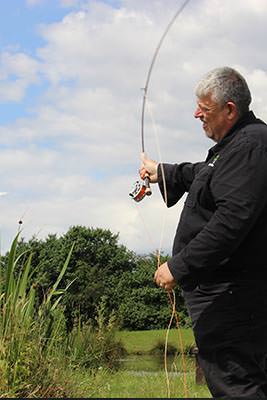 This rod is a classed by Wychwood as a "fastish" rod. Casting the rod brought out its true character. The flex is superb, as an self taught fly fisherman my casting action may not be the best in the world, however the feel of this rod is outstanding. It really loads the fly line and helps propel the flyline neatly. With a Wychwood midge tip line #7 fly line and the Wychwood Flow Reel this was superbly balanced. Loading the rod you can feel the line building up like a spring the full length of the rod as is visible in the pictures above. It allows a very fast build up of speed. With as Wychwood put it it has an extra bit of power down low in the butt section, so unlike a lot of stiff actioned rods, it has life and feel to it, they are correct. It loads well, and propels the line well allowing me to easily reach my maximum casting distance.
When playing a fish the full blank of the blank is employed. A great advantage of his rod is that with the RS rod flexing as one you will be able to subdue your catch far quicker and without fear of putting too much strain on light tippets.
Our View: If you are looking for a mid price range rod then the Wychwood RS Range absolutely must be considered. Loads easily, medium fast action, excellent choice for stillwaters for both boat and bank fishing. Great value for moneny