Sonic SK4 Fly Fishing Rod - First Impressions
We had our stock of Sonik fly rods arrive and I could not wait to get my hands on one of these little beauties for a full evaluation, I had enjoyed testing it prior to taking on the range but wanted to give it a real work-out!. I chose the Sonik SK4 9'6" #8 for evaluation, to date I had been using the Wychwood Aura #7 9'6" for all of my reservoir fishing and been delighted with it.This seemed a reasonable test as the rods cost £144.99 for the Sonik SK4 and the Wychwood Aura was £129.99, both are 4 piece fly fishing rods and both come from quality reliable manufacturers. I had been using the Wychwood Aura since its release in 2009 and must say the design is superb and I have enjoyed fishing with this fly fishing rod. First impressions of the Sonik SK4 fly rod were that the design was superb, excellent quality and a stunning looking fly fishing rod.
Fast action fly rods are really good find out more on our post about fast action fly rods
Sonik SK4 Fly Fishing Rod Test Setup
To test the Sonik SK4 fly fishing rod I was looking for Rainbow Trout, the venue, Rosslynnlee is as catch and release venue so many of the fish are extremely wary. Conditions were extremely bright so fish were deep. For the review I used the following:
Sonik SK4 9'6" #7/#8 fly fishing rod
My old Orvis Battenkill large arbour reel
Airflo Ridge Distance Floating Yellow Wf8Ffly line with Essential Fly fluorescent backing braid
Essential Fly #4 tapered leader with Stroft ABR 0.22 and 0.18 to create a dropper and point. I use the tapered leader at the front of my leader then Stroft ABR as it helps me give a better turnover to my flies, especially on longer casts. The leader is 22 feet long with a 12' tapered leader and 2 x 5' lengths of Stroft for dropper and point.
Flies used, Elk Hair Caddis #10 on top dropper as a Bung fly (as there were many caddis flies about) with Sandy's Blank Buster Buzzers (changing from #12 to #14) on droppers and Sandy's Rainbow buzzers on point as my heaviest fly
Tapered leader and tippet degreased with Leadasink
Sonik SK4 First Impressions
The Sonik SK4 fly rod looks excellent, the golden olive gloss blanks are true quality blanks and have superb action, medium fast tip actions.What was very noticeable was the weight of the Sonik fly fishing rod, first I fished with the Wychwood Aura for an hour which was my normal reservoir rod and as usual I was pleased and landed a couple of nice Rainbows. However I then swapped my old Oris Battenkill reel and #8 floating line to the Sonik fly rod and it immediately became obvious the rod was lighter than my Aura, weighing in at 4.13oz / 117gm compared with the Wychwood Aura which weighed 5.3 oz / 151 g - now one ounce does not sound like much however when you have been casting for an hour it makes an incredible difference. So I started casting, the Sonik fly rod casted beautifully, I immediately found with its light weight and medium fast superb tip action my casts were going further with the same reel and flyline as I had been using earlier. The line flies neatly and quietly through the rings and felt excellent.
My first fish felt superb with the strong backbone and light weight. It was fighting the first fish that I found one of the neat design points on the Sonic fly rod which was the thumb indent which was extremely comfortable and surprising. Sandy Dickson came over after one hour later and realising I was using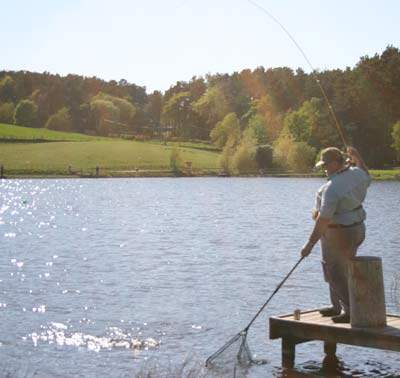 the Sonik fly rod had a go, the results were love at first sight, of course the rod was blamed for me catching more fish and like me Sandy immediately commented on the light weight and superb action.
Sandy & I both really likes the Sonik fly fishing rod, indeed this has now become my first fly fishing rod choice for reservoir fishing. Sandy's reaction was possible more demonstrable as the photograph shows!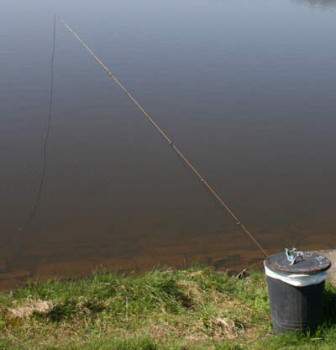 Sonic SK4 Rod Features
Golden olive gloss blanks with medium fast, tip actions.
Matching 1K carbon weave on the base 'logo' section for extra durability and style.
'AAA' grade Portuguese cork handles with subtle 'thumb indent' on rod lengths of 9'6 and above for extra comfort and stability of grip.
Reel seat is machined from lightweight, marine grade aluminium which is then hard anodised in black to prevent corrosion.
A fixed hood is keyed to a channel built into the woven carbon insert. This
automatically centres and holds any reel size securely and ensures a permanent anchorage.
Lightweight high stand-off aluminium oxide stripper guides, with single leg hard chrome intermediates, hayfork tip ring.
Olive green tyings to match the blank with subtle copper tippings on the butt section only.
Alignment lines and length/line weight information on each section for easy set up and ring alignment.
Supplied in a good quality cloth bag with a durable triangular cordura tube with strap and carry handle for safe transportation.
Summary
Having used the Sonik fly fishing rod this is definitely my reservoir rod of choice at the price. Indeed I think is the best fly fishing rod on the market at the price of £120 to £150