Review of Vision Onki Fly Rod, Wulff Triangle Taper Line & Umpqua Pack
We had a great day fishing at Mulberry Whin on Monday testing the 8 foot 4 weight Vision Onki Rod with the new 2Tone Triangle Taper Wulff Fly line and using the Umpqua waist pack. What a super day catching natural brownies from this lovely chalk stream. Mulberry Whin is the most northerly chalk stream in the UK and in August cost £60 for a days fishing, very different to southern chalk streams.
Using a 4 weight Vision Onki rod paired with the Triangle Taper fly line were a delight. The colour and action of the Visikon Onki were superb and with just 10 feet of fly line our I was able to roll cast and naturally cast 30 feet of fly line 30 feet in very tight circumstances surrounded by trees. The Triangle Taper fly line was superb floating high in the water and it made casting a delight.
4 Weight Vision Onki and Triangle Taper With Natural Brownie
Equipment Review
Summary
Vision's new rod series Onki (Rod & Line in Finnish) consists of 11 Carefully developed medium-fast rod models to cover most scenarios anglers face on brooks, creeks, rivers and on various Stillwater / Reservoir destinations. We used the 4 weight 8 foot rod and it is superb ligh, sensitive and attractive.
Four piece Korean-made the Onki are high quality rods have green olive blanks with Graphite Grey Screen markings, the colours not spooking fish with garish colours as the olive looks natural. The quality of high-modulus graphite Korean (40 tn) is normally found in much more expensive fly fishing rods and it enabled the team at Vision to create a very light and sensitive rod. The rest of the components are of great quality as well. For example the handles have narrow rubber / cork reinforcements to make them more durable. With the Vision fly rods your money is truly well spent.
All models are 4 piece, available in a range of sizes and line ratings and delivered in a protective cordura rod tube.
Medium Fast Action
Light and sensitive
Four piece rods
High-modulus graphite Korean (40 tn)
Green Olive blanks with graphite gray markings
Royal Wulff 2 Tone Triangular Taper Fly Lines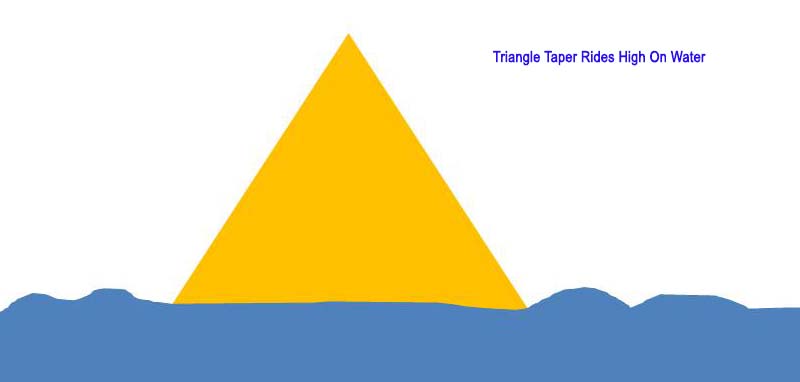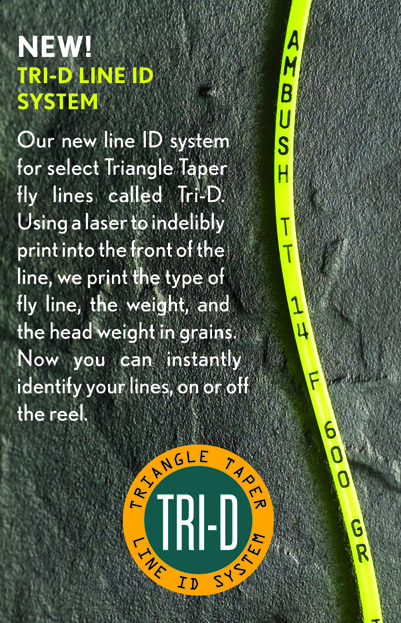 Because of its triangular shape the 2 Tone Royal Wulff fly line rides higher in the water than standard fly lines. An incredible fly line designed for efficient energy transfer and to cast well. Using J3 coating which is a specilaised cating embedded in the 2 weight line. Iy floats higher and repels water giving super slick performance.
All the Royal Wulff Triangle 2 tone Fly Lines include the Tri ID system. Using a laser printer each fly line has the weight, type of fly line and head weight in grains laser printed onto the fly line. Making identification of the 2 Weight line simple from all the other Royal Wulff fly lines which all use the TRI ID system. No more difficulties in identifying the fly line and remembering which line it was.
J3 coating makes Triangle Tapers shoot better, floating higher, repelling water, and lasts longer. The slick J3 coatingon each Triangle Fly Line has a dry feel, minimizing resistance for longer distance casts. With its J3 coating the 2 weight fly line stays clean and slick for the life of the line! What makes this unique is J3 isn't simply a spray that's applied at the factory and reapplied later. J3 is a specialized coating integrated into 2 weight line itself, giving it years of super-slick performance.
| | |
| --- | --- |
| Fly Line Running Length | 54 feet |
| Line Weight: | 2 Weight |
| J3 Coating | Yes |
| Welded Loop | Yes |
| Tri ID System | Yes |