Trout Fishing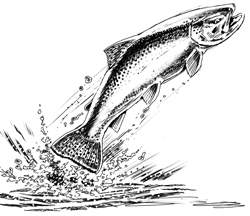 We love fishing for different species of trout ranging worldwide from cutthroat or brookies to chalkstream, stocked reservoir, stillwater rainbow trout, brownies or blues. Different species and destinations demand different tackle and flies and you will find all you need from The Essential Fly. On a small brook you may be using a 3 weight trout rod with size 18 flies on a 1lb tapered leader, however on a large reservoirs you may be casting an 8 weight fly rod with ghost tip fly line or boat fishing using a competition drogue to stop your drift.
What is Trout Fishing?
We generally fly fish for two species or trout, Rainbow Trout and Brown Trout in the UK although we also fly fish for Blue Trout and Tiger Trout which provide amazing sport.. Put simply fly fishing is the art of casting a little artificial trout fly using a weighted fly line, making it land gently on the water on or below the surface making it behave like a natural insect. It sounds easy however different flies are about at different times of the day and different flies on different months of the year. So indulging in the spot helps you become an amateur entomologist, helps you appreciate nature and puts you into some of the most amazing countryside.
We stock a massive range of barbless flies and microbarbed fly patterns suitable for every venue and occasion. If you need a micro dry fly size 24 for that small brook trout or a large lure or small buzzer flies strong enough to cope with stocked monsters from lakes and reservoirs you will find them online with The Essential Fly, all backed by our quality services and product guarantees. You will not find better quality and value for money in the market. Check the reviews from tens of thousands of fly fishermen, lakes and dealers in over 50 countries that we have supplied.
Trout Fishing For Rainbows - Oncorhynchus mykiss

There are many species of trout that we chase as fly fishermen, ranging from the Rainbow Trout which we hunt in lakes and rivers or as their most exciting form the Steelhead which is returning from saltwater. Rainbows are native to coldwater rivers surrounding the Pacific in North America and Asia. Today this species has been introduced to many lakes worldwide for food and sport where it is a target particularly for fly fishermen.

Steelhead

These are stunning fish which start life in rivers as Rainbows then go to sea for 2 or 3 years. These then return to run fresh from saltwater where Steelheaders chase this species which has amazing strength and is sought by fly fishermen from around the world.
Trput Fishing for Brown Trout - Salmo trutta

The Brownies are native to rivers in Europe although widely introduced worldwide. Typically found in small streams although larger rivers are known to stock them. These fish have been introduced to Canada (1886) and USA (1883). Find out more about Brown trout here. Brownies today are in rivers and lakes where they can grow quite large.

Typically Brownies go for more natural flies and as they grow larger they move from eating smaller flies and nymphs to chase fry and small fish.

Sea Trout - Saltwater Brownies

Sea trout & Brown Trout are the same species (Salmo Trutta). Because of local factors (often lack of food) young brownies just 5 to 7 inches long (smolts silver in color) migrate in a shoal to sea. These return from April to October to spawn. Most Sea trout are female.