Species of Salmon
Is there just one species of salmon?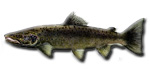 When we speak of "salmon" we are referring to either Atlantic salmon or Pacific salmon. There is only one species of Atlantic salmon, latin name Salmo salar. There are six species of Pacific salmon: pink (Oncorhynchus gorbuscha), chum (O. keta), chinook (O.tschawytscha), coho (O.kisutch), sockeye (O.nerka) and Masou (O.masou).
Do all Salmon go to sea?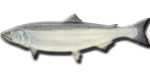 No. Although most Atlantic salmon spend part of their lives at sea there are some which are non-migratory. In several lakes in eastern North America there is a form known as a land-locked salmon, Salmo salar sebago (Girard), though their access to sea is not barred. The fish is popularly called Ouananiche (Lake St. John) or Sebago salmon (Nova Scotia, Quebec, New Brunswick, Newfoundland and the New England States). In Lake Vänern in Sweden there is a non-migratory form of Atlantic salmon called "blanklax". Land-locked Atlantic salmon also occur in Lake Ladoga in Russia and in Norway in Lake Byglandsfjord. There are also land-locked Atlantic salmon in South Island, New Zealand.
How big can salmon grow?

Atlantic salmon can grow to a very large size and the biggest, which have reached up to around 70lbs (32kg), are usually caught in Norway and Russia. However, some very large fish have been recorded in Scottish rivers. It is generally accepted that the largest one caught on rod and line in the UK was taken by Miss Georgina Ballantyne in the River Tay. Her Atlantic Salmon weighed 64lbs (29kg). There is an 1891 report of a monster salmon of 70lbs, also caught in the River Tay, but on this occasion in a net belonging to a Mr. Speedie so has not been classed as a rod caught record.
Do Atlantic Salmon have a world-wide distribution?
No. Except for the land-locked varieties, they are naturally limited to the waters of countries bordering on the North Atlantic Ocean and Baltic Sea. The following countries presently have Atlantic salmon, in varying numbers: Canada, Denmark, England and Wales, Faroes, Finland, France, Greenland, Iceland, Ireland, Norway, Poland, Portugal, Russia, Scotland, Spain, Sweden, United States.
Pacific Salmon
Pacific Salmon nearly always return to spawn in the freshwater areas they were born in. They overcome very hazardous river conditions and swim great distances to reach their place of hatching, most people have seen amazing pictures of salmon and bears in Alasca Rivers. Scientists have also tagged young salmon to plot where they go when they migrate into the Pacific Ocean from the rivers. Some swim many thousands of miles like the tagged Chinook which was recorded having covered 3,500 miles before being recovered swimming back up Salmon River in Idaho, to spawn. The salmon fatten up in the ocean. The record for the largest Pacific Salmon is 126 pounds caught commercially up in Alaska.
Atlantic Salmon Flies
A massive range of quality salmon fishing flies designed for Atlantic Salmon from Scotland, Iceland and through to Russia including Snaelda, Sunray Shadows, Tube Flies and hook based flies on single, double or treble hooks all backed by The Essential Flies quality guarantee.
Salmon Fly Fishing Gear
Anyone going salmon fly fishing will demand great tackle including salmon fly rods, salmon fly reels and salmon flies. We stock ranges from Snowbee, Wychwood and The Essential Fly at great prices delivered world-wide.