Welcome To The Essential Fly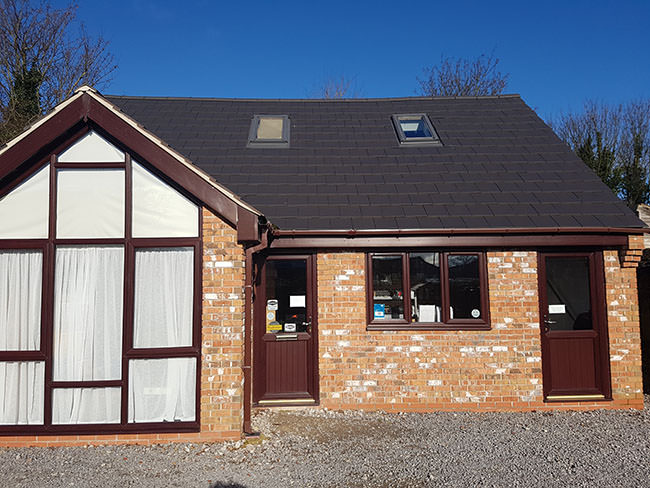 Our premses were custom built to our own specifications in 2015/6. We pride ourselves on being a very "green" distribution center. Having installed solar panels, low energy daylight 6500 kelvin lighing ideal for fly tying we wanted a distribution center that was energy efficient and to contribute to our environment. Our energy efficiency meant we had to cover our large display widow at the front of the premises. Using every bit of energy efficiency we could we created offices that were 35C at 10:30 in the morning. The trouble is that was in early April with no heating on in the premises! As fishermen we have to be aware of our environment, hence our desire to be energy efficient with our premises.
We do not offer the ability to browse in our distribution center but we can assist you from outside the property via pre-booked appointments if required.
Fishing Advice
We are available for fishing advise of all abilities from new comers to the sport to the experienced angler. We can answer your enquiries Monday to Friday 9-5 GMT via email, social media, or over the phone.
We have also designed electronic fishing guides which you can purchase and download straight away to strengthen your fishing knowledge.
View them all here: https://www.theessentialfly.com/fly-fishing-e-guides.html
Fishing Flies Store
With massive stocks of flies we are sure to have what you need.

Fly Tying Store
We have a large range of fly tying materials and tools in stock from threads and wires to scissors and vices from excellent manufactures. We are able to get all materials from all of our brands if they are not in stock we back to back order weekly so you are sure to have the latest products and not something that has been gathering dust on the shelves!
Tackle Store
Every fisherman requires tackle to get fishing, the most common accessories and leaders are kept in stock as standard. We hold a select amount of tackle in stock as there are just so many manufacturers and equipment to choose from there is just not enough space to stock them all onsite. We back to back order with the brands weekly to ensure you get the latest models available.
Custom Events
We have previously held events onsite, we are luckly to be friends on Hans Van Klinken and he has graced our premesis once or twice and shared his knowledge with our lucky local anglers!