Picric Dyed Materials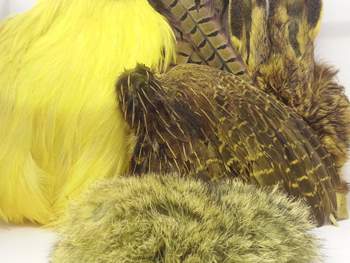 Picric acid dying was used many years ago, however minor concerns like powdered picric acid was use as an explosive. In 1830 chemists thought about using picric acid as an explosive. Before then, chemists assumed that only the salts of picric acid were explosive, not the acid itself. In 1873 Hermann Sprengel proved it could be detonated and most military powers used picric acid as their primary high explosive material! Picric acid has to be stored carefully and is use controlled and carefully managed. At Semperfli the team decided to use modern techniques and facilities to resurrect dying with picric acid with controlled facilities for safety and the results are stunning. A natural olive with tips of golden yellow perfect for many fly tyers and producing stunning flies.
So we have managed to set up facilities that don't explode but do provide stunning olive fly tying materials, tips of yellow and olive on cock and hen pheasant wings, hares masks, squirrels tails and roe deer is superb. We are sure that you will like this specialist high end fly tying materials.

Semperfli Picric Dyed Fly Tying Materials. Dyed with picric acid in specially prepared environment we have been perfecting the old technique of picric dying to produce the perfect fly tying materials.