The Essential Fly Total Quality Service
When we were just simple fishermen and not running The Essential Fly, we naturally ordered flies from many of the big name retailers in the UK. Trouble was, we were so disappointed. We received battered packages through the post, crushed boxes (designed to minimise postage with the retailers), catalogues wrapped around the flies - you know what we mean? The flies we received were damaged and crushed together.
So, when we set up The Essential Fly, we were determined that we would send out our flies in appropriate specialist and protective packaging to ensure the flies arrive in the best condition.
We had often found it hard to talk to real people at some online stores. We wanted real advice from real people. Sometimes we wanted to have our flies made up for us. Sadly sometimes it was all too much trouble.
So, we set up The Essential Fly and were determined to be different.
We know first hand how important that day's fishing is. We share your passion! So when you need advice, help or information or you simply need to know your flies will arrive in time for your fishing holiday, you can order with confidence.
Then theres the pricing. Why should you have to pay those really high prices? Surely that can deter some people from fishing? The Essential Fly provides top quality flies at the best prices without compromise.
We're on hand for help and are totally focussed on customer care.
We want to get your flies from us to you as quickly and as safely as possible.
Why not put us to the test? Place an order with us and see the Total Quality Service for yourself!
Stock
Our stock holding is huge and the quality of flies superb. We really looked at the issue of packaging to take care of our crown jewels! Our tyers use quality materials and hooks and we hold dozens of every size or our range of hundreds of flies. We are constantly monitoring the season to anticipate volumes for example with mayfly madness!
Packaging
We designed boxes specifically for our flies for both storage and distribution. Our postal packages are designed to be crush proof and to protect your flies, whether for a small or large order. Find out more about our packaging of flies.
Delivery
We deliver parcels by first class post, recorded delivery for more expensive orders or International Signed For Delivery for European, USA or Rest of World Deliveries.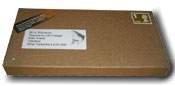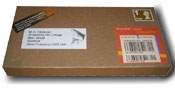 Really desperate for your flies?
If you are really desperate we can offer 1st Class Recorded Delivery in the UK for orders placed by telephone for a fee of £4.99,Monday to Thursday. Orders must be placed by 3pm for this service.