Shipping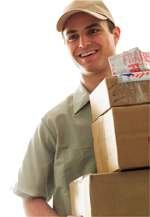 Our e-commerce system will let you know what is in stock and any items that are Special Order Items from 3rd party suppliers. We will order Special Order items on the next working day.
Cheque / Paypal e-cheque / Money Orders
Imediately we receive payment we will pack and ship your goods, delays may occur when paying by Paypal eCheque or by Cheque or Postal Order. Paypal eCheque can take 5 days to clear and with personal cheques we wait for 4 days before releasing the goods.
Cleared Funds
In the event of paying by credit card or by Paypal account we will be able to ship your goods immediately.
Shipping
We ship via Royal Mail or courier depending on the value of the items and ship immediately products are available, usually next day with stock items.