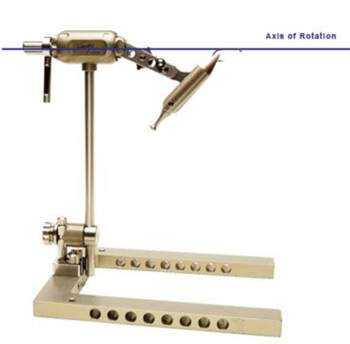 I'm looking to buy a new vice, I currently use a basic lever vice but would like to get a rotary. Just when I think I've found the right one, someone tells me it's no good.
This is a question that has many implications, firstly a lever vice is talking about the way hooks are clipped into the vice, using a lever hence the phrase lever vice. Rotary vices can have lever or screw actions to tighten grip on the hook. However the real issue is that there are different types of rotary vices. There are lots of vices on the market that are sold as rotary vices. And indeed most of them can rotate in one way or another. But in order to be what I define as true rotary the vice has to live up to certain demands:
1) The axis of rotation has to be the same as or very close to the axis of the hook shank. So when the hook is mounted horizontally the vice will keep the eye and the shank in the same level when the rotating part of the vice is turned.
2) The hook has to be able to turn 360+ degrees without steps. This is an advantage for some tying techniques like trimming deer hair, winding ribbing or even simply varnishing heads which you can get on smooth and evenly with a rotary vice. A good rotary has no dead points, click stops or anything else that hinders the positioning of the hook. Really the vice must be able to turn more than one round in the same direction.
3) The hook must be able to turn in both directions - clockwise and counterclockwise.