Rotary Fly Tying Vice - Fish Bamboo
Tuesday, 10 May 2011 | Admin
Essential Fly - Fish Bamboo Rotary Vice Now Available at Just £119.50
A superb rotary fly tying vice at just £119.50 in leatherette storage bag. There have been improvements made since we first got hold of this vice with metal knobs for tightening this vice has a gallows, height extender C Clamp for desks and pedestal base. We loved this vice once we got hold of it, indeed we now use it at shows in preference to the Marc Petitjean Fly Tying Vice as the heavy pedestal base does not move.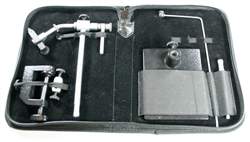 As standard the rotary fly tying vice comes with:
hardened stainless steel vice head suitable for large to micro hooks size 24!
Vice height extender
Gallows
C Clamp
Heavy Desk Pedestal
Leatherette storage bag
We have used this vice for tying everything from midges to large tube flies.