CatchPro Sunglasses including Preseription Fly Fising Glasses Available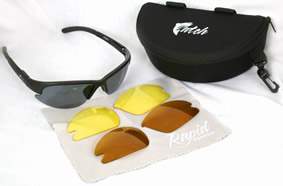 When we were sent these to trial they were worn all weekend, and loved. Being a typical fisherman we often have multiple glasses, brown & black for different light conditions. The Catch Pro is not the replacement for all our previous glasses. Coming with 3 sets of interchangeable lenses for different light conditions these fit the bill better than any previous glasses.
Catch Pro fishing sunglasses conform to European and British safety standards EN1836, which means they offer 100% UVA / UVB protection. Being extremely tough, they will protect your eyes from the potential dangers of getting a hook in the eye, or indeed any other impact. The lenses are scratch-resistant, and factory impact tested.
The benefits of having polarised lenses in fishing glasses are well documented. In essence, light reflecting off horizontal surfaces, such as a body of water, causes glare; polarised lenses nullify this effect. This makes it comfortable for the wearer to look at the water, and often allows them to see below the surface . It has long been realised that polarised sunglasses are a 'must have' for fishing.
CatchPro Fly Fishing Sunglasses are available with Black or Silver frames and also with BioFocal Fly Fishing Sunglasses and Prescription Fly Fishing Sunglasses