What are Snaelda Flies?
The Snaelda salmon fly pattern is a very popular salmon fly pattern used throughout Europe on many great Salmon rivers. Snaelda is Icelandic for a dancing girl. There are many versions in the Snaelda flies family but the most common Snaelda flies must be the Snaelda Black Yellow & Orange Salmon Tube Fly or the Snaelda Black Yellow & Green Salmon Tube Fly. The Snaelda is a very popular fly in Scotland, Russia and of course Iceland where it has its origins.
Fishing Snaelda Fly Patterns
As the Snaelda fly is based on tubes these can be used with any hook permitted on the waters you sare fishing for salmon. The smaller 0.5 inch Snaelda tube flies will be fished more in brighter summer weather. Larger Snaelda flies are used early season or late season. Like any salmon tube fly you can use the Snaelda flies on sinking flylines to get the flies deep in Spate waters.
Varying Snaelda Tube Fly Size & Color By Season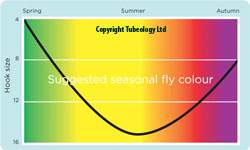 Use green colour in Snaelda flies in the early part of the season. Larger 1 inch Snaelda salmon flies will be used in early and late salmon fishing season. In The middle of the seaon, during summer you should be using the smaller 0.5 inch Snaeldas in brighter colours.
As the Snaelda are tube flies use relevant size and type of hooks for the water. Typically a small double tube fly hook is sufficient for Snaelda tube flies all year round.
Techniques For Fishing Snaelda Flies
To tie the Sunray Shadow tube fly onto the end of your leader, simply pull the hook from the rear of the plastic tube, tie the hook to your leader and re-insert the hook into the tube. If the hook becomes damaged it can be easily replaced without disposing the fly. If you have problems of the hook inserting itself up the tube thread on a bead at the rear of the tube just in front of the hook eye. Always have spare hooks with you!
Cast your Snaelda fly casting it across the current and letting it swing normally. An alternative method of fishing the Snaelda fly is by casting upstream and letting it sink. Coming downstream there is no drag from the flyline, the fly will sink more rapidly this way, and you will be able to fish a lot deeper than on the downstream arc. Please keep contact with the Snaelfa when fishing upstream, enabling you to set the hook if a fish should strike the fly on the almost slack line!
: