Blank Buster Specimin Hunters are exactly that, buzzers for larger specimin fish. Made with stronger hooks that standard blank buster buzzers which are made with Kamasan B100 hooks. B100's can bend with strong fish or with fluorocarbon where there is no give in the tippet material.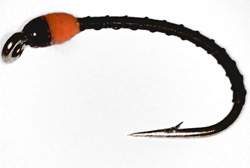 Sandy Dickson is one of the most talented tyers in the UK. Sandys range of Blank Buster Buzzers are so good Sandy was threatened to be sued over them - a boat fisherman using a 20 foot leader tied one to the point, dropped it over the side and continued tying more on the 2 droppers. Unfortunately a trout hit the point fly hard and dragged the droppers into the fishermans hand! Of course it did not go to court and was idle threats, Sandy would have won any court case, it was the boat fisherman's own fault and the flies too good!
On their first outing with Sandy and colleagues testing these buzzers were delighted - they accounted for over 50 trout. These really are Blank Busters when used correctly. With easily spooked fish use long leaders, Sandy's Blank Buster Buzzers can be used on their own on a tapered leader of up to 20 feet for readily spooked fish that will frequently take a Sandy's Blank Buster Buzzer.
The Blank Buster Buzzers are tied to Kamasan B100 hooks to ensure an ultra thin profile. With the slow penetration through the water due to the low surface profile and weight these are an incredible early season buzzer. Trout love them!
This is what customers say:
"These new flies will take the trout world by the neck and shake it up. They are sparsely tied and thin but they catch fish. The first time I used one it took 4 fish before they moved away and I have used them since and taken fish when other methods proved very slow or even dead and taken fish.They are yet another fine product from this great company. Try them-they really do work, no gimmic just a well tied fine fly which takes fish under most conditions.." Mick Marsden
"Further to my e-mail yesterday I thought you might like to know how the BB's got on at Orchill today.
The night had been very cold but this morning the temperature came up a bit and there was no ice on the loch.The local bailiff was out in the spare boat and had taken three nice fish on a buzzer cast..., which turned out to be Blank Busters!
My boat partner started with an intermediate line and two lures that produced nothing...I took the bailiff's advice and tied up a team of three buzzers with a green and black BB on the bob (at three feet down) and a slim black and silver buzzer one dropper down and a size 10 black buzzer with a silver rib and a small gold head on the point.
I caught five fish..two on the BB,two on the middle dropper and one on the point buzzer.A bit mixed on results but four fish better than my partner who had nil on lures and one only on a BB that I gave him to fish with his team of two other buzzers." Thanks again, Greg Lockhart
| | |
| --- | --- |
| Scarlet | Very effective at dawn, dusk or dull days |
| Orange & Yellow | Best on bright days |
| Green | Coloured water and bad light |
| Luminious Buzzer & Sparklemet Lumi Buzzers | Best 1 hour before dawn and deadly 1 hour before dusk |
| Flash Attack & Silver Flashback | Use anytime of day |