Salmon Flies For Sale
Traditional Patterns, Modern Hairwings to Tube Flies All Top Quality Salmon Flies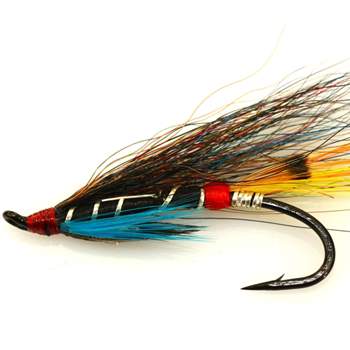 With salmon fly fishing occurring in waters from Scotland, Iceland to Russia or Pacific Salmon fishing in Canada and USA the salmon fly fisherman demands quality salmon flies or salmo salar flies and best prices. With Snaelda salmon flies, sunray shadow flies and a large range of salmon tube flies, traditional salmon fly patterns like Blue Charm, Willie Gunn and Collie Dog still taking salmon world-wide modern patterns like Salmon Dry Flies with the Bomber salmon pattern, the famous Allys Shrimp and Allys Cascade developed by Alistair Gowans the fly choice is great for the salmon fisherman. To make it easy for your salmon fly fishing trip we also have prepackaged salmon fly selection packs readily available.
We have shipped everywhere, including direct to hotels for salmon fishermen who have had fishing emergencies!
Salmon Fishing Flies - Salmo Salar Fly Patterns
There are lots of types of Salmon fly patterns including tube flies, shrimps, hairwings, snakes. Each fly type has its own benefit for example a tube fly can have much more weight if a copper or brass tubes are used or lighter if nylon tubes are used. Hairwing flies give lots of movement triggering attacks where an Irish shrimp fly pattern looks like natural shrimp food eaten by salmon while at sea. We sell a vast range of quality flies for salmon for any venue you wish to fish at.
Check our blog posts: