Atlantic Salmon Flies & Pacific Salmon Flies
Our range of fishing flies for salmon includes the essential Ally's Shrimp and Ally's Cascade; Sunray Shadow; traditional patterns & Irish Shrimps based. Always check local fishery/club rules whether flies based on single, double hooks or treble hooks can be used. If In doubt take tube flies as you can swap hooks to adhere to the local rules.

Varying Size & Colour Flies By Season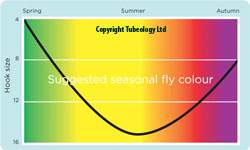 Fly hook size requirements vary throughout the year. In the early season size 4 flies with green colours are more successful for salmon fishing. In mid season colours change from yellow flies (why not try the highly successful Allys Cascade Shrimp) to orange colour and as the season progresses the successful flies get smaller. During the height of summer you may be using flies as small as size 16. At the end of the season red flies like Red Allys Shrimp works well then finally purple colour flies at the tail of the seaon with hooks now in the size 8 range.