Better Use of Buzzers Fly Fishing
Saturday, 10 September 2016 | Simon
Possibly the most underestimated flies in the fly angler's armoury are the humble Trout buzzer flies. The Trout buzzer imitates a midge in its nymph stage ready to emerge into an adult midge. Starting life in muddy water as a bloodworm or chironomide which is blood red in color and changing into the midge as an adult.
When ready to emerge into a midge it ascends to the surface of the water. This is when we use a Trout buzzer to imitate this stage of the midge's life. Using small Trout buzzers does work as a natural buzzer pupa can be just a few millimetres long. Believe it or not these little buzzers maybe just 5 to 8 mm long can account for huge trout, the reason is simply they think they are eating something natural.
Fishing Techniques Using Trout Buzzers

Buzzer feeding actually occurs 365 days per year!. With a weighted beadhead buzzer the Trout buzzer will drop swiftly through the water however weight is not always the key, Sandy's Blank Buster Buzzers with their ultra low thin profile sink rapidly because of the limited water resistance.
Fished in a different ways the Trout buzzer is a great trout fishing fly when grayling & trout are feeding on buzzers / nymphs which the Trout buzzer mimics.
The Trout buzzer can be fished static in multiple different ways including, Bung or Thingamabobber, Trout buzzer team drifting and Trout buzzer dry fly drifting or as it is also called using the Trout buzzer New Zealand style.
Trout Buzzer In A New Zealand Rig or Dry Fly Drifting
Using a larger buoyant fly in New Zealand they developed a fishing style where a fly like a buzzer fly is tied to a tippet then attached to the hook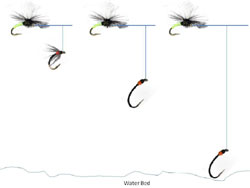 bend of the large supporting trout dry fly. This technique is superb when utilizing a highly buoyant fly like a heavy hackled klinkhammer, a buoyant caddis or suspending the Trout buzzer using a foam fly.
My personal favourite is a caddis dry fly on rivers and trout stimulator on lakes. The Trout buzzer can be used as part of a team at the depth fish are feeding to search for Brown Trout. On rivers and streams using a New Zealand rig with a Trout buzzer is superb as both the Trout buzzer and the supporting buoyant dry fly act as lures and simultaneously present flies at surface and underwater catching trout at all stages of feeding. The top dry fly also acts as an bite indicator for when the buzzer has been taken.
Blank Buster Specimin Hunters 32 Fly Collection
Specimen Hunters are designed to imitate as closely as possible the natural buzzers, with hot coloured heads that act as targets for hungry trout. This is the closest to a natural buzzer you can use without trying to thread a real buzzer onto your hook.
Sandy's Blank Buster Buzzer- Specimen Hunter's gives a natural ribbed effect to the fly. This fly has worked wonders on stillwaters, ideally they are fished very slowly on a floating line and as long a leader as you are can use. With its weight the Epoxy Buzzer cuts rapidly through the surface film and gets to fishing depth quickly. A very slow figure-of-eight retrieve is normally best; occasionally if there is a lot of buzzer activity fairly fast stripping can work well. Quite often this will be taken on the drop.

A full collection makes your selection quick and easy, and represents great value too!
Drifting a Trout Buzzer with a Thingamabobber or Bung
The Trout buzzer can be used as part of a team of flies and drifted under a Thingamabobber or a bung. Typically buzzers such as Trout buzzer and other buzzers in different sizes or colours can be used. Using a buoyant team like this with Trout buzzer works well on both reservoirs and particularly well on rivers.
On rivers using a Thingamabobber works well as it provides support and can act as a superb indicator on turbulent or fast waters with the Thingamabobber moving with both the wind and the current. Upstream mends can ensure that the drift is smooth or that the team with the Trout buzzer can be held on riffles and creases in the stream.